Silje Nergaard and Trondheim's own piano virtuoso, Espen Berg, invite you to two intimate concert experiences in Palmehaven this December. Silje and Espen were supposed to be here in February, but infection control rules put an end to that. But now they are coming and the anticipation can begin!
Espen's dynamic and playful piano playing makes Silje's beautiful and unique voice really shine in this beautiful musical interplay. The duo gives you a concert experience that is pure balm for ears, heart and soul.
Silje will be perfmorning songs from her 30-year, 18-album strong career including some new and exciting material, from her upcoming album HOUSES. Her release At First Light, with over 140,000 copies sold, is Norway's best-selling jazz album of all time.
Wednesday 15th December, 7pm *few tickets remaining*
Thursday 16th December, 7pm *few tickets remaining*
The concerts are part of Britannia Hotel's Artist In Residence series, where famous artists move into the hotel and host a series of performances, mini residencies, à la Las Vegas. The intimate concerts have limited tickets, ensuring an experience where the audience are close and personal with the artist(s) themselves.
The ticket price includes an aperitif on arrival and a luxurious three-course meal, where you have the option to choose between to classic Christmas meal main courses:
Aquavit-cured trout, served with whipped Røros sour cream and horseradish, crispy rye, trout roe and dill.
Britannia's Classic Christmas serving, with crispy ribs, Christmas sausage and meat balls, sweet and aromatic red cabbage, prunes and apple, Christmas sauce and almond potato.
Baked wild halibut from the Helgeland coast with green pea puree, Avruga caviar, pearl potato and airy hollandaise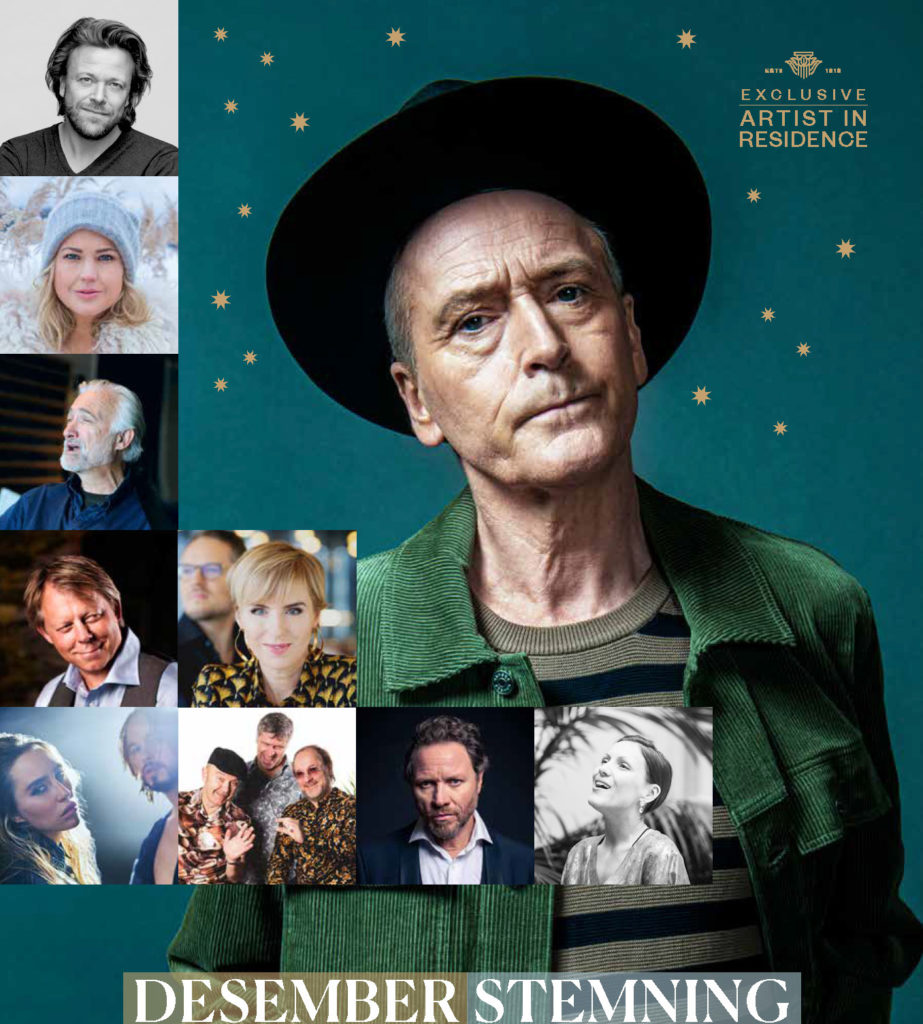 If you would like to sit with guests who have purchased tickets separately, please contact us directly to make arrangements. If there are any allergies to be taken into account in relation to the menu, please inform us and we will provide a specially-customised menu. All information is sent to: hovmester@britannia.no.
Doors to Palmehaven open at 7pm. If you would like to arrive earlier, we ask you kindly to reserve a table in either Britannia Bar or Vinbaren. You are also welcome to use our conference lobby as a waiting area. The wardrobe is found on the basement level, accessed through the lobby.
For the complete experience, you make accommodation at the hotel, with a five-star breakfast and entrance to our spa & fitness included in the price. Find your hotel room here.