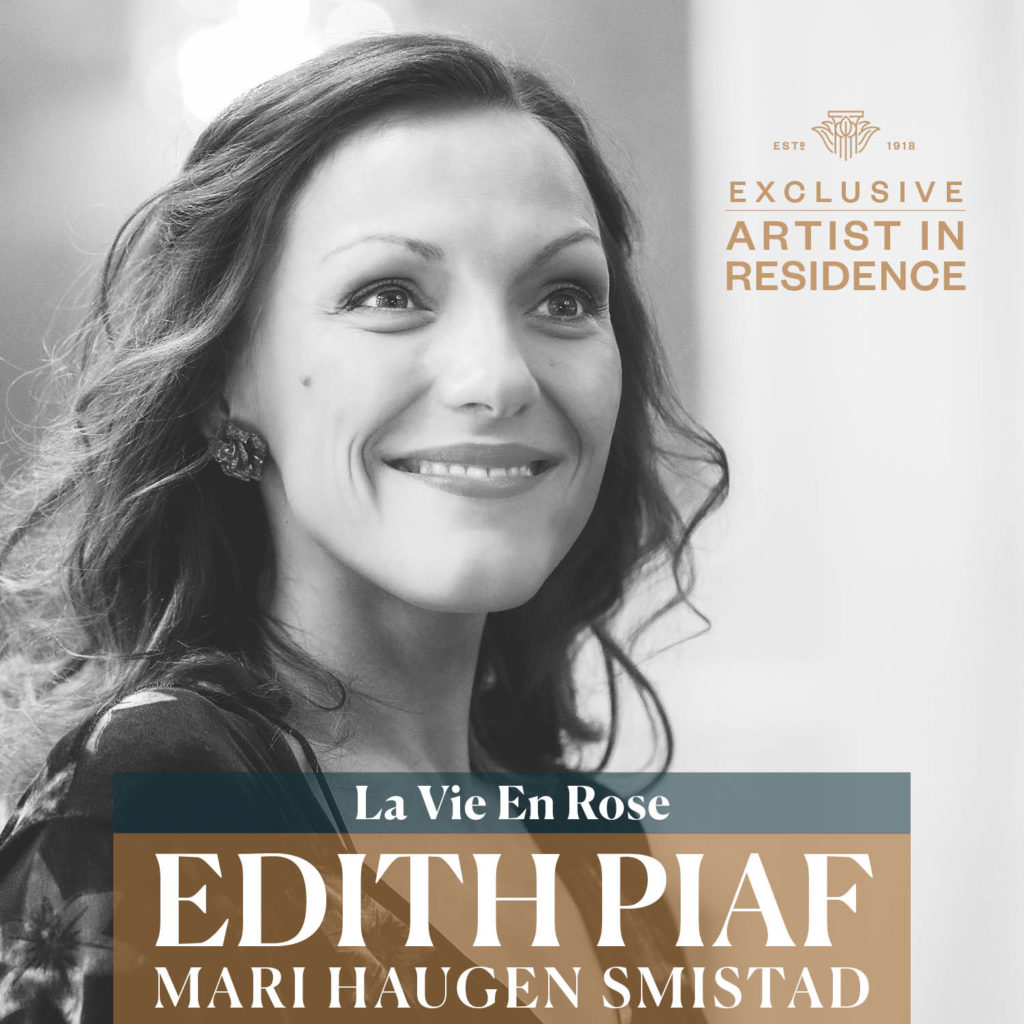 UPDATE: We can confirm that the concerts with Mari Smistad Haugen have been rescheduled for the 23rd and 24th of May. If you have purchased a ticket to the planned event earlier in the year, you will be contacted shortly and either offered a refund or new tickets at a later date when the concert is rescheduled.
In spring 2021 Palmehaven will become life's stage, as we journey to Paris, from victory to defeat, but where the greatest tragedy of all is love and our experiences of it.
We are repeating the success of 2020's La Vie En Rose concert in Palmehaven. A French atmosphere will be created when Mari Haugen Smistad performs La Vie En Rose with the songs of Édith Piaf in January.
Édith Piaf's musicality and life was made to be celebrated. In Palmehaven next year we are doing just that, and we have secured Trondheim's own Mari Haugen Smistad to make the magic. Edith Piaf, was called the little sparrow, and had a communicative power far beyond the ordinary and whose influence lives. Mari has herself been called den lille jente med den store stemmen (the little girl with the big voice), and she will take to the stage with her incredible performance as Édith Piaf's persona.
Sunday 23rd May, 7.30pm
Monday 24th May, 7.30pm
The evening starts with a 3-course menu included in the concert ticket, composed by Britannia's eminent cuisine.
Poached cod and smoked cod roe
Sour apple, «Brilliant» trout roe, dill oil, puffed buckwheat and cress
(fish, eggs)
Roasted beef tenderloin from Røros.
Pickled and glazed onions, baked beets, potatoes and pepper juice
(sulfite, wheat, milk)
Valhrona chocolate meringue
Cream cheese, airy espresso foam, berry sauce and cinnamon crumble
(milk, eggs)
If you would like to sit with guests who have purchased tickets separately, please contact us directly to make arrangements. If there are any allergies to be taken into account in relation to the menu, please inform us and we will provide a specially-customised menu. All information is sent to: hovmester@britannia.no.
For the complete experience, you make accommodation at the hotel, with a five-star breakfast and entrance to our spa & fitness included in the price. Find your hotel room here.