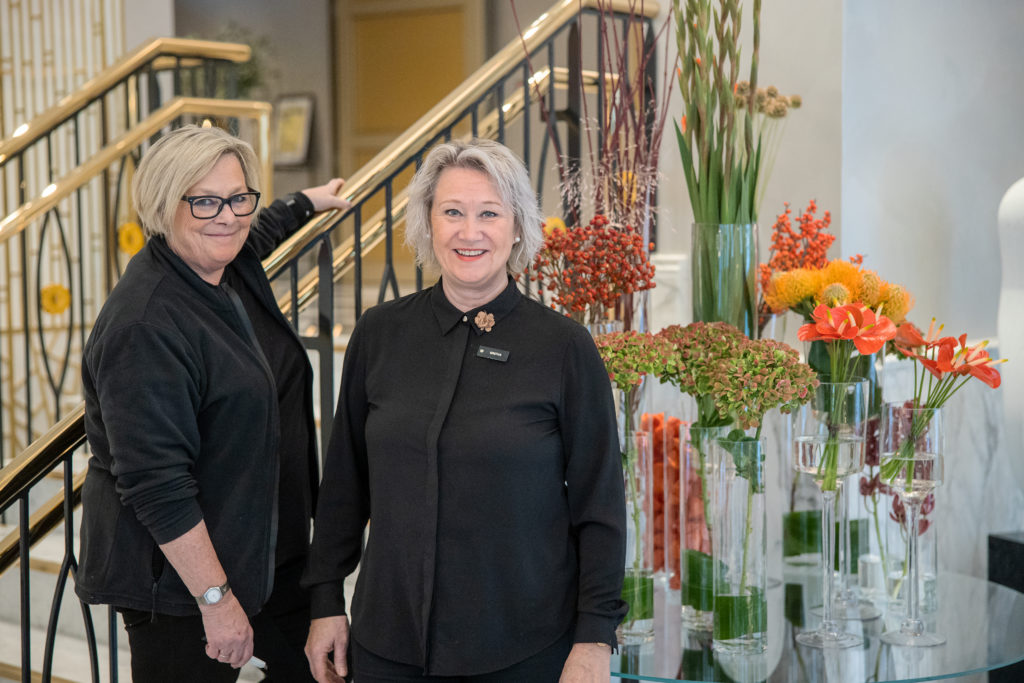 Britannia Hotel is privileged to have not one, but two fantastic florists working in house. Gretha Husby and Wenche Birkeland have nearly 100 years of flower decorating experience between them, ensuring excellence in all of Britannia's 1,000+ vases.
Flower decoration is an essential part of a hotel's presentation and Britannia is the only hotel in Norway to have dedicated staff for the task. When flowers are done professionally, they will match the style and design of the hotel seamlessly. When they are done expertly they will both compliment the design and elevate the experience in equal measure.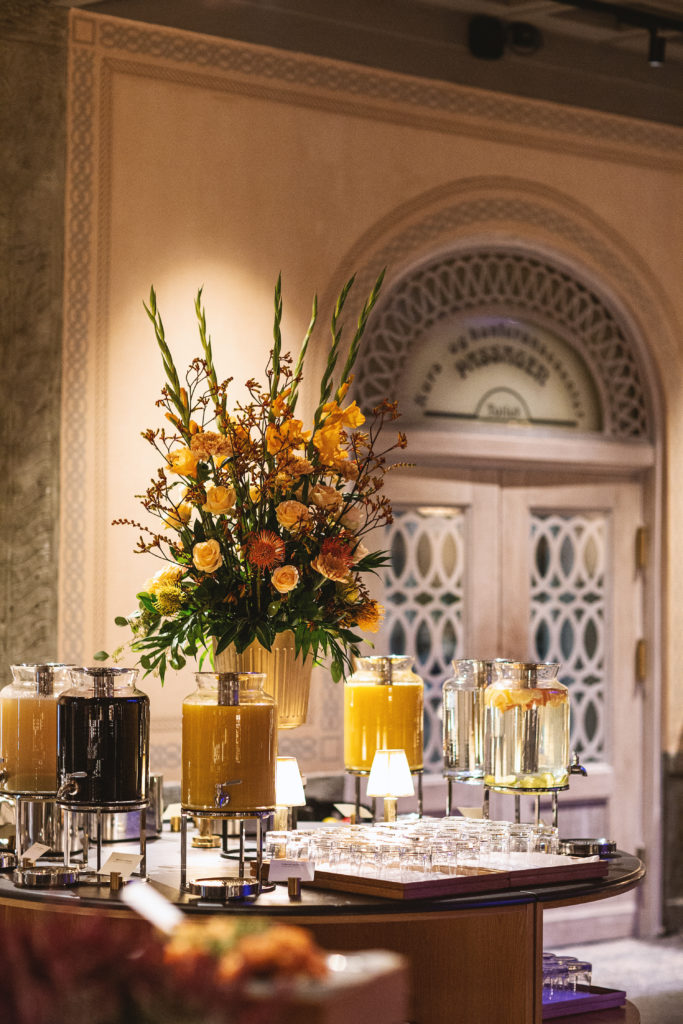 "Florists can often be control freaks, because they are kind of perfectionists when it comes to flower arranging," explains Gretha, who began working with flowers in 1972. ""I began with flower decorating when I was 13 because my best friend, her family had a gartneri (a 'nursery'), right near where we lived in Nardo. I worked there every summer and Christmas, until I ended up having responsibility for running the place when they were on holiday. That's when I started to like having responsibility."
Having managed different shops and chains in Trondheim, decorating a few royal weddings and ships along the way, Gretha has certainly had her fair share of responsibility over the years. She now heads the Britannia department where, along with Wenche, she ensures there are fresh flowers in every one of the hotel's 257 rooms, along with populating all the different departments, according to their individual styles.
Britannia has quite a classic style, but each department has their own tweaks and styles. For example, Speilsalen has a stand-out centre piece in a big gold urn. A very classic style, but we also introduce some thematic flower arrangements, like our wild flowers at the beginning of autumn season.

Gretha Husby
Their pièce de résistance however has to be the decorations adorning the glass table in the lobby, which greets guests with a welcoming splash of colour and freshness. Changed every week, with flowers and colours in accordance with what is going on inside and the season outside, the arrangement draws in a steady flow of locals who come specially to see what Britannia's flower team have created.
Wenche, who has also been work with flowers since 1972, and has decorated big events during her career such as the World Skiing Championships in 1997, says the centre piece is their 'signature'.
"We have to think a bit different about flowers for somewhere like Britannia, compared with say flower arranging home," elaborates Wenche, who freely admits she took the job when she heard about Gretha's position and had her 'head turned' by the incredible opportunity. "Here (at Britannia) there are many more details to consider, many different colour combinations to be considerate of. You have to think differently. It keeps me progressing as a flower decorating, and it's the highlight on my CV, even in my older years."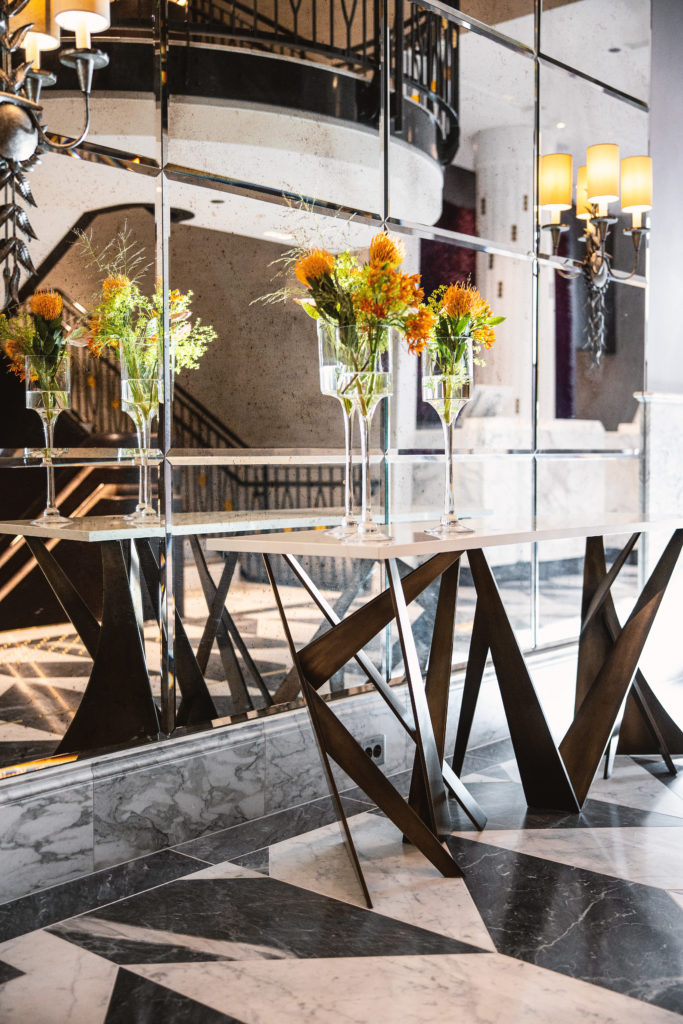 Gretha's floral journey began at Statens Gartner og Blomsterdekoratørskole in Vea ('Norway's Green Vocational School'). It was the only such school in the country at the time but there are several these days. And now she is a nationally recognized champion decorator, which Britannia is both lucky to have and proud to present to our guests. Her team can adapt all the spaces in the hotel, to match each room to the guest's preferences. Their decorations are not limited to fine flowers on your breakfast table and tasteful decorations on your conferences stage, but also extends to the rooms you are staying in, decorations for the wedding car, bouquets for ever special occasion and much more. And also of course the benefit is that they are in house - so the guest does not have to be the middle man between florist and location.
Their focus now is on Christmas. In this capacity they are focussed on the hotel's goal to create new traditions: they do not just want to pedal out the same old decorations on a big scale, but think outside the box and create something unique for Trondheim. The details for this year are a closely kept secret, but all will be revealed in November when the lights come on.
It's the world's most beautiful career!

Gretha Husby
Basically, what Gretha and Wenche don't know about arranging stems, petals and leaves… 'aint worth knowing. "It's the world's most beautiful career," finishes Gretha.