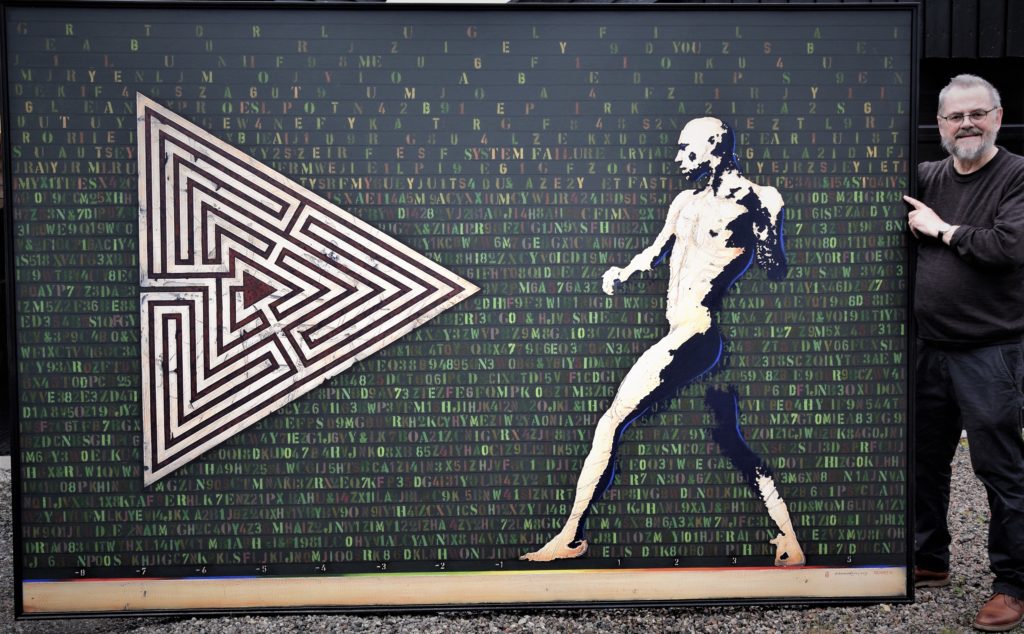 Arnold Dahlslett is one of Norway's foremost graphic artists. In recent years, however, the artist has devoted more attention to painting and sculpture. Dahlslett succeeded Håkon Bleken as the second of Britannia's featured artist in 2020.
The artist's exhibition, across three floors in Britannia Hotel, will now be extended until the end of the year, with several new pieces now on display in the conference lobby.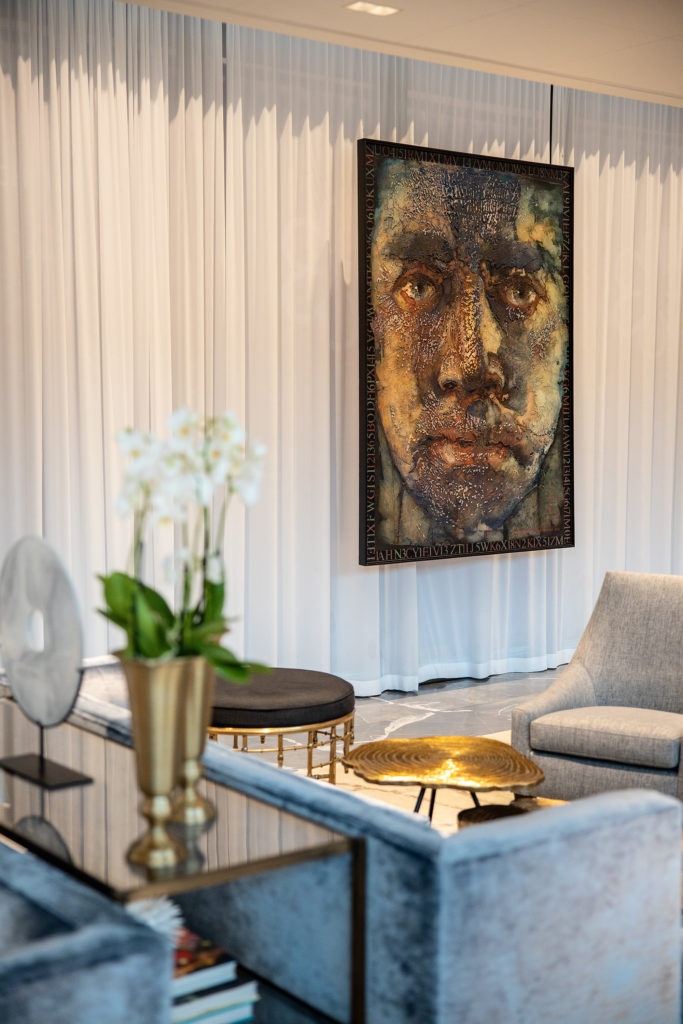 Forty commanding, pillar-like sculptures are presented in two groups. They are be supported by a significant number of graphic works, which emphasise Arnold Dahlslett's continued mastery of this genre.
However, the list of works for the exhibition informs the audience that it is canvas and brush which occupies Dahlslett the most today. Nearly 100 paintings will be displayed across three floors of the hotel.
Dahlslett's exhibition opens on 15 January 2020 (private opening, open to the public from 16th January onwards) and will last for six months. All the artwork is for sale and the artist has also created a graphic magazine specifically for the Britannia Hotel exhibition.
I do my utmost to make my art deserve to be shown to an internationally-oriented audience in the magnificent framework of the newly restored Britannia Hotel.

Arnold Dahlslett
Arnold Dahlslett has been purchased by Nasjonal-
galleriet (the Norwegian National Gallery), Norsk Kulturråd (the Norwegian Cultural Council) and a number of important galleries. In addition to the visual arts, he has completed several major commissions.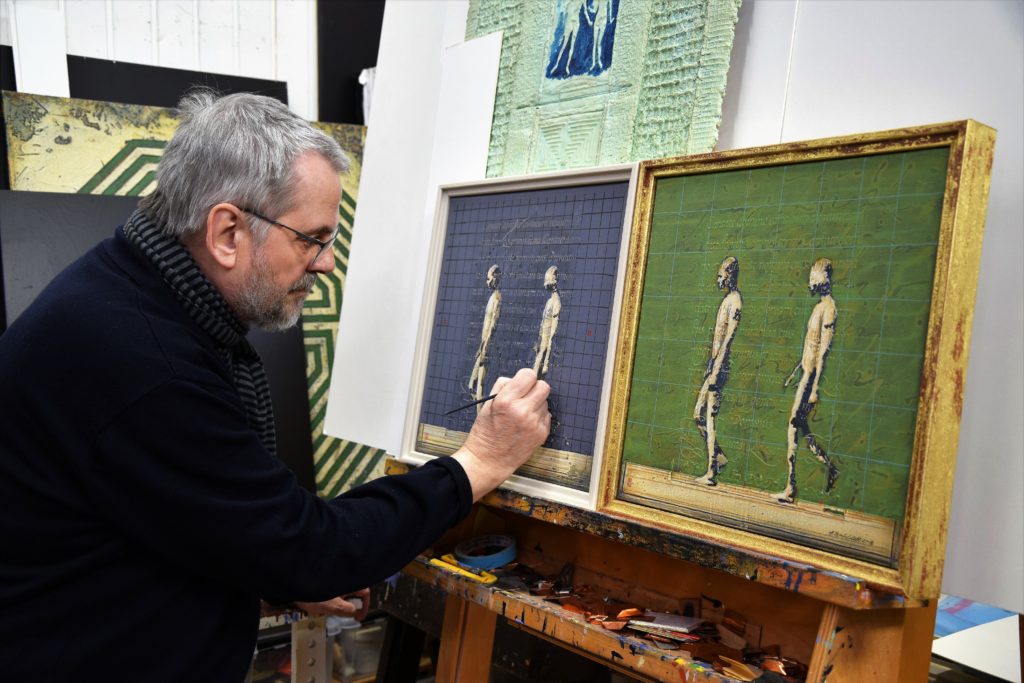 At the age of 71, he can now look back on 40 years of work as a visual artist and teacher; a combination he has enjoyed. He was an associate professor at Olav Duun High School in Namsos, where he taught design and visual arts until he retired at the age of 67.
Dahlslett has houses and studios in Namsos, apartments and studios in the German city of Osnabrück, which he occupies while printing his graphics in Berlin. He sometimes lives in Trondheim, where he also works with his art. The artist is constantly on the move, seeking out great international art to inspire his own work.
The Britannia exhibition follows Dahlslett's annual exhibition, which he has maintained for the past 40 years. Dahlslett has worked on this exhibition intensively, despite falling seriously ill a couple of years ago.
There was more adversity in 2018 during his big exhibition at Galleri Osebro in Porsgrunn, where works worth a quarter of a million kroner were lost to a fire.
Dahlslett's response to illness and fire is to continue to create new and better art. In the autumn of life it is more important than ever.
"When I got the cancer diagnosis it was operated on in good time and it went well. Due to a large exhibition going on at the same time, I found it expedient to lie idle, so I asked nicely to go home a little earlier. And I got permission," Dahlslett smiles. He adds:
"I force myself to work every day. I have to admit that I am getting more tired today, that it has become harder to work every day. At the same time, the Britannia Exhibition is both an inspiring and challenging task and I like that."
Dahlslett has also noticed the Japanese master Hokusai's considerations that one is never taught, and that it is only when approaching the end of the journey that things turn.
Hokusai says that he had not produced anything good when he passed 70, that he would have understood more when he turned 80, that he expected to know the secrets of art to the bottom at the age of 90, but that he did not count as a hundred years and the years thereafter to make commendable things.
"There is much right in what he says. Håkon Bleken is over 90 and is reaching new heights," says Dahlslett.
Arnold Dahlslett is from Honningsvåg in the north of Norway where the North Sea straddles the beaches. He has his education from Germany and is himself heavily influenced by German artists, both the old masters and the graphic artists and painters who are closer to his own era.
Dahlslett travelled to Germany in 1970 and studied first at the School of Arts and Crafts in Münster and then at the Academy of Art in Stuttgart. The four years there he remembers as particularly rewarding: inspiring and demanding teachers and a vibrant student environment with talented young people.
After Germany, Arnold Dahlslett turned back to Norway and joined the State Teachers' School at Notodden in 1975. At that stage, he doubted that the artist's career would be lucrative enough to feed a family.
This is how he ended up as an associate professor at Olav Duun High School in Namsos, where he worked alongside his German wife Jutta, whom he met when they were both students in Münster. The couple continued their studies at the same academy in Stuttgart and also both attended the teacher's school at Notodden.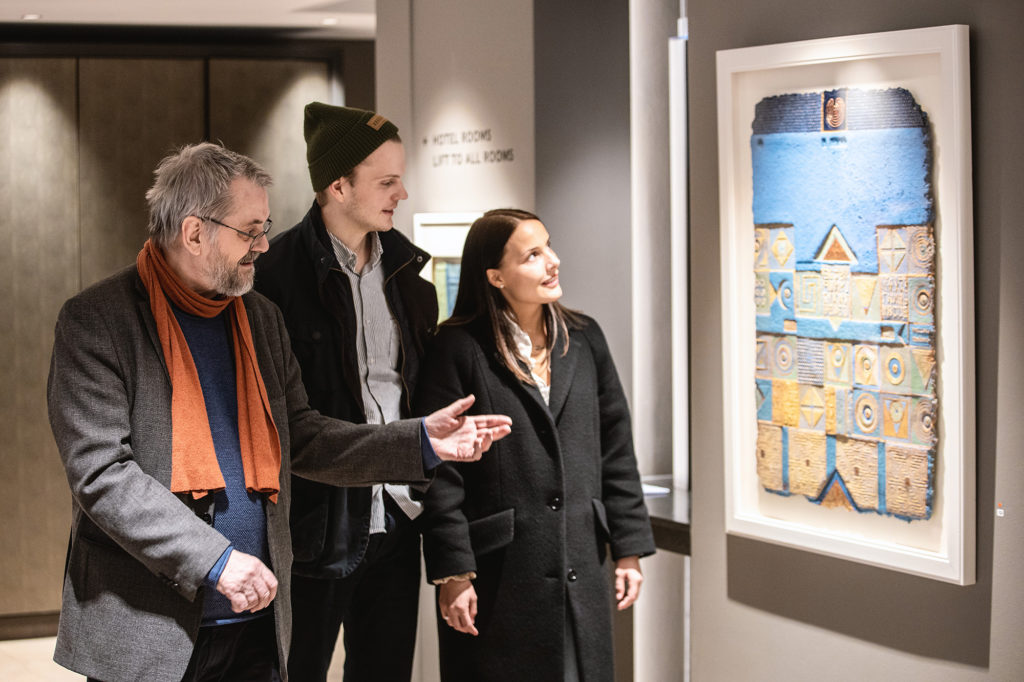 When The Collector visits Arnold Dahlslett's studio in Namsos, there is a three-by-two metre painting in the works in Dahlslett's studio.
Along another wall stand a plethora of smaller paintings, 30 x 40 cm, which provide a stark reminder about the development in his work to large format.
To enter into Dahlslett's world is to dig into the earth, in order to fly towards the atmosphere. As with the archeologist, where one seeks out the knowledge of what happened before.
As with the astronaut, who floats through the sky to report from the extra-terrestrial.
Occasionally, the artist seeks out those living in the present, to research human relationships.
He plays with geometry, calligraphy and pure aesthetic expressions, all clarified and beautiful.
Dahlslett has also turned his attention to paintings that have remained in the studio for many years for various reasons.
"Today I see the potential for improvement in these older works. I do not want to leave behind lesser works," says the artist, in a catalogue preface in 1986, believed that technical perfection drove Professor Øyvind Storm Bjerke, almost into pedantry.
He has since taken his perfectionism even further, to produce his own paper, for print and paint.
Exhibition opens 16th January, more information to follow.