D.R. Harris is London's oldest pharmacy. Customers as varied as Oscar Wilde, Naomi Campbell, British Airways and the royal family have all been patrons of the St James's chemist, which has been producing fine perfumes since the 18thcentury.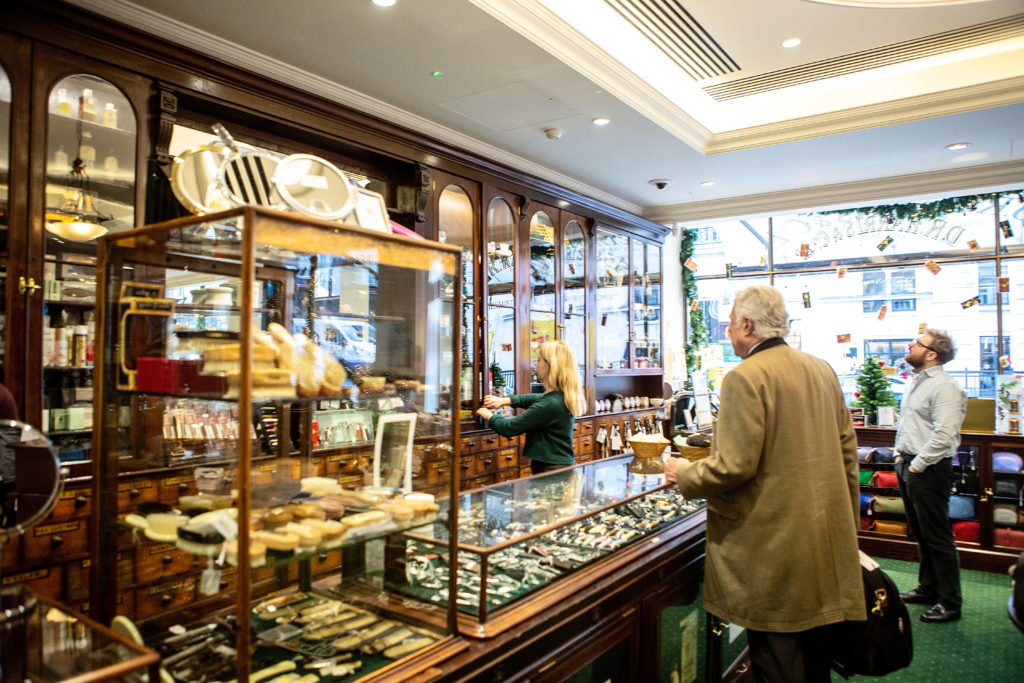 Picture the year 1790: Norway was still in a union with Denmark, King George III sat on the British throne and electricity had yet to be invented. In France, Louis XVI conceded to the baying mobs of the revolution. In the US, George Washington was giving his first State of the Union address. In order to paint a picture of this distant past, one would have to do just that, as photography was yet a figment of the imagination.
It is a period of history whose reveal is usually made through literature, art and fiction, a distant era with two full centuries separating it from today's modern world. Yet in one corner of the British capital, nestled between Mayfair and St James's, there is a business which is still plying its trade after all these years.
Established in 1790, D.R. Harris began as a chemist and perfumer on the corner of King Street and St James's Street, selling remedies and perfumes to the city's landed gentry. Today's shop still retains much of the original furniture as well as its strict adherence to outstanding levels of service, offering a literal and sensory window into the past.
Founded by two cousins, Henry Harris and Daniel Rotely Harris (one of the founding members of the Royal Pharmaceutical Society), the chemist soon gained a reputation for its toilet waters: colognes and perfumes made from English flowers. These would have been doused liberally behind the ears of fashionable and scent-conscious Londoners, fragrances such as Old English Lavender Water and Classic Cologne. Oscar Wilde was known to have been a loyal customer.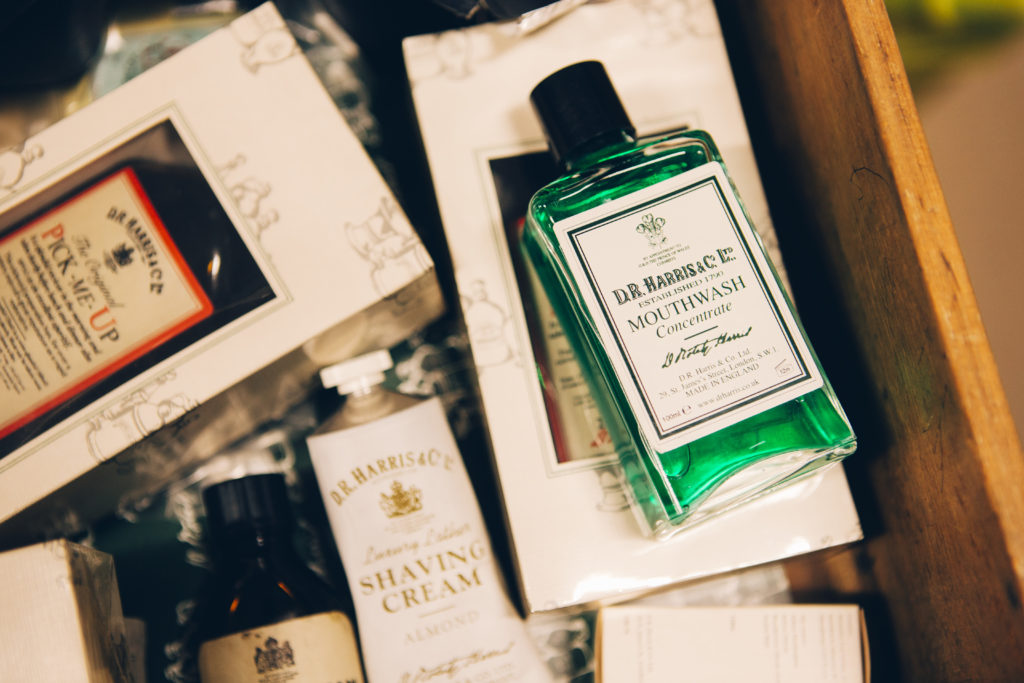 The shop still houses rows of old Victorian apothecary bottles with Latin inscriptions, lined up above a bank of original drawers or secured within single pane glass cabinets. Close your eyes and you can imagine members of nearby gentlemen's clubs popping in to discretely pick up their prescriptions and refill their colognes. D.R. Harris and its scents have clearly lasted the test of time, though they have also had to adapt to changing trends in preference.
"Some of the fragrances are perhaps modern takes on the original fragrances, but we have always gone for the traditional side because our customers are of a traditional ilk," explains Managing Director Dr.Alison Moore. "That guarantees longevity. We have developed new products like the hair fixatives, because there was a gap in the market, but at the same time we (still produce) a very old hair fixative, the Crystal Hair Cream, which is water-based. And people love it. There is nothing else quite like it on the market, yet that is what all barbers used to use 50-100 years ago."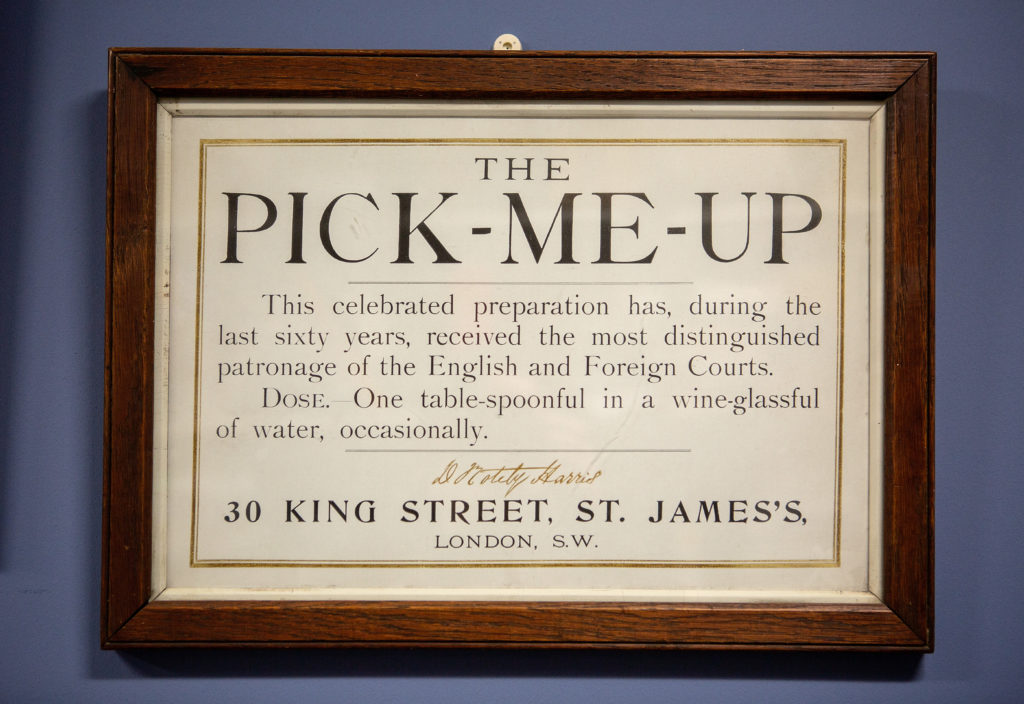 D.R. Harris has been owned by the same family since its founding. Moore, a research pharmacist by trade, maintains the family's traditions by employing her children in the store. She relished the chance to return to her first love. retail pharmacy: "I grew up in a pharmacy that looked just like this, in Penzance, Cornwall. We had all the old fittings, but in the 1970s my parents had the furniture taken out and replaced with modern furnishings."
D.R. Harris's soaps are triple-milled, meaning water is pressed from the soap mixture three times, leaving a denser, firmer soap that lasts longer and produces more lather.
Some stalwarts of the brand have been phased out over time, such as the Pick Me Up rapid restorative mixture, a hangover cure whose dosage was measured "by the wine glass" and could double up as an aperitif. The D.R. Harris family likes to draw upon time-honoured traditions and standards: great service, discretion and luxurious yet utilitarian products. But other aspects of their trade's past are Dickensian in nature, belonging to an era where barbershops were called 'barber surgeons' and where practitioners would have carried out minor surgeries on the store floor, such as blood lettings and the pulling of teeth. Such practices are best consigned to the annals of history, bottled away with the leeches and arsenic.
"What's been pretty lucky, in a perverse kind of way, is that we have never been a company which has tried to follow trends," adds Julian Moore, Alison's son and the brand's Sales and Marketing executive. "There are four or five companies who are similar to us within a few minutes' walk from here, but they all have a barbering background. Ours has a pharmacy background, we are more of an apothecary, and so our products have a broader appeal."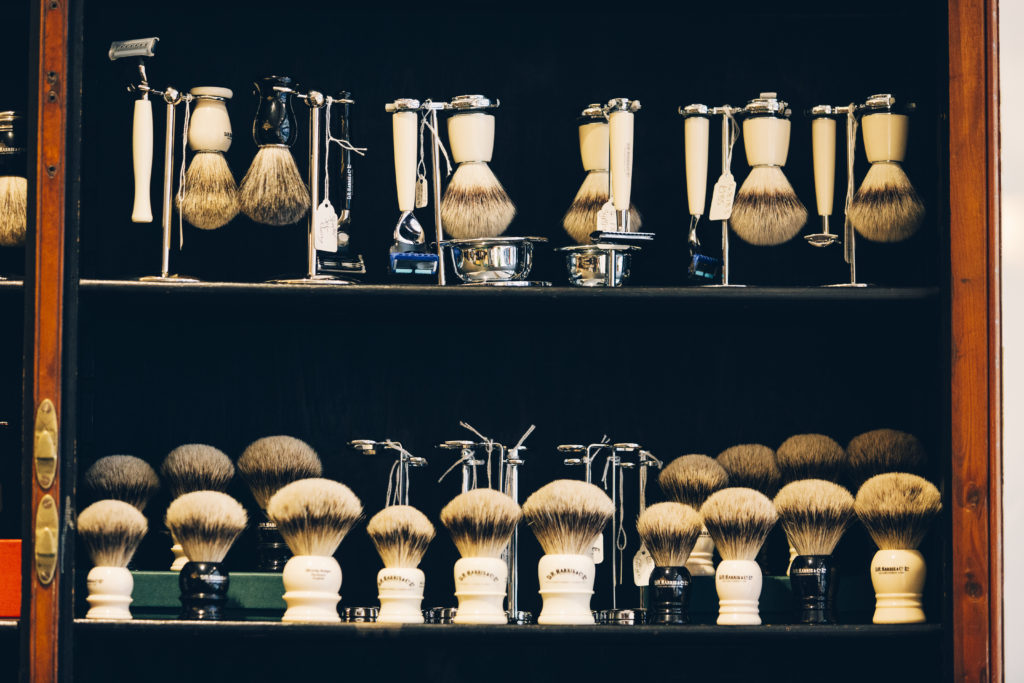 That's not to say that D.R. Harris is any stranger to barbering. The brand boasts an extensive range including soothing aftershave milks, horn-finished razors and shaving brushes made from the finest badger hair, giving them the distinctive black to white colour grading. "What D.R. Harris doesn't know about shaving isn't worth knowing," wrote Country and Town House magazine in a recent article, accompanying the introduction of their shaving products to Fortnum & Mason's barbershop in Piccadilly.
Their shaving soap is one of the few available which still contains tallow, a substance that creates a luxurious lather. It comes in a handsome reusable wooden bowl and, like most of their products, is available in variety of scents. The Windsor range is classic contemporary, with citrus notes over a background of leather and pepper, whereas the Arlington boasts English sophistication, lightly scented with citrus and fern for a clean, masculine freshness.
"I think we have always had a broad range of soaps, shampoos and conditioners which are unisex in their nature," continues Julian. "And then we have the skin care products. We also used to have crystal eye drops which were hugely popular with supermodels. They would make your eyes bright white. Naomi Campbell was a big fan."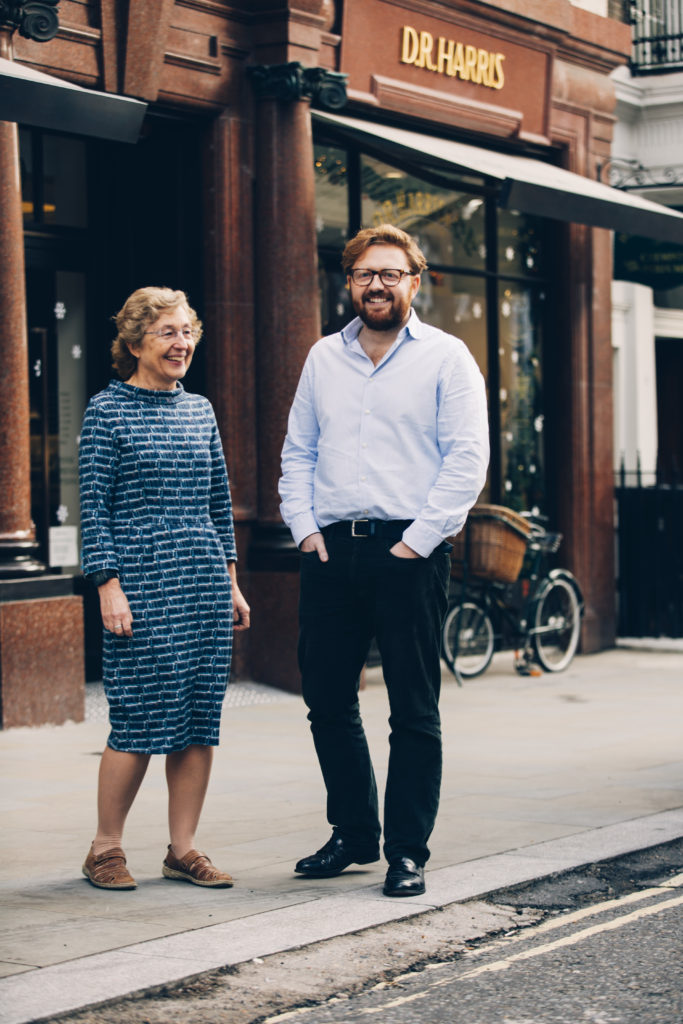 D.R. Harris's soaps are triple-milled, meaning water is pressed from the soap mixture three times, leaving a denser, firmer soap that lasts longer and produces more lather. The Almond Oil Soap carries a rich scent, with notes of clove and rose. It is one of D.R. Harris's leading ranges and is now available as both a hand cream and hand wash.
The beauty of the brand is that, out of its over 400 products, some items are so exclusive that Julian can name almost every customer they make it for. Such small-scale production is sustainable because D.R. Harris has resisted the urge to franchise and therefore does not have to worry about scaling production for distribution to outlets. They are open to new ideas and maintain a low overhead on product development. So, for example, when a colleague from packaging suggested putting the sandalwood cologne in shower gel, they did just that.
"When British airways commissioned us to make a travel bag to commemorate their 100-year anniversary, they requested a toothpaste. We did not produce one at the time, so we went out and made one. Because we are a small company in some ways it's much more difficult, but in other ways it's much easier to develop new ideas. We think of something and we say: 'let's try it!' If we try something and it doesn't work, then it's a limited run and can stop."
These credentials were influential in the pharmacy being awarded a Royal Warrant as chemist to Her Majesty the Queen (later, the Queen Mother) in 1938, which was held until her death in 2002. In 2002, D.R. Harris was awarded the Royal Warrant as chemist to His Royal Highness the Prince of Wales and, in 2012, the Royal Warrant for Her Majesty the Queen was renewed once again.
If you were given license to rummage around the drawers of D.R. Harris, you may well come across prescription slips for every royal sniffle and sore. But this scent-ly family has been respecting the privacy of their customers for 225 years and that is not likely to change any time soon. Luckily for the rest of us, D.R.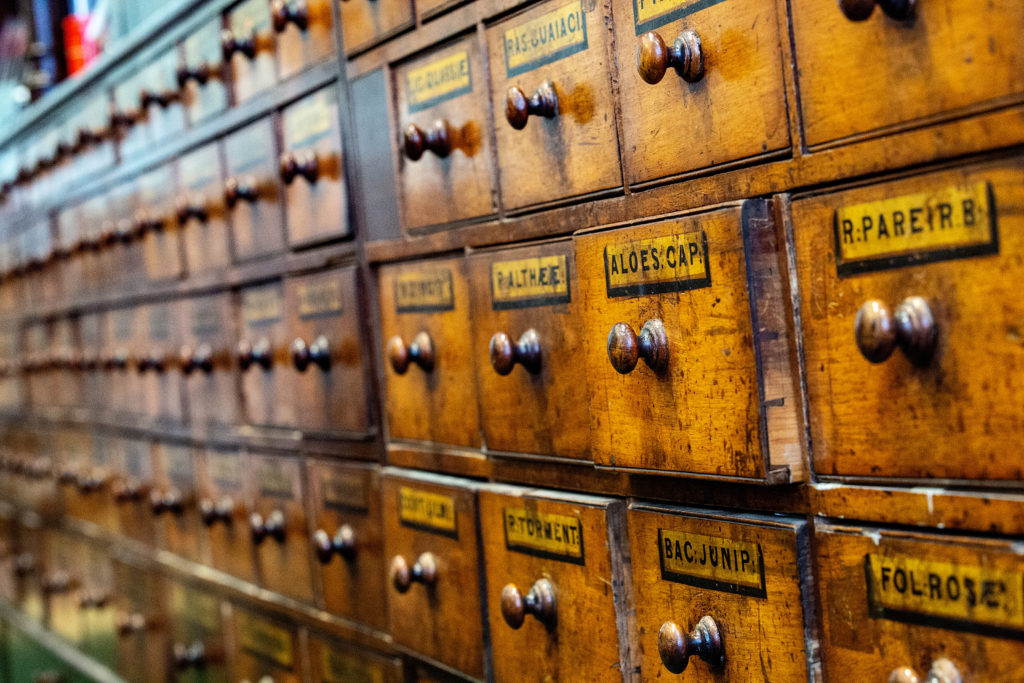 Harris products are available as select amenities to guests staying in our Superior and Deluxe rooms.