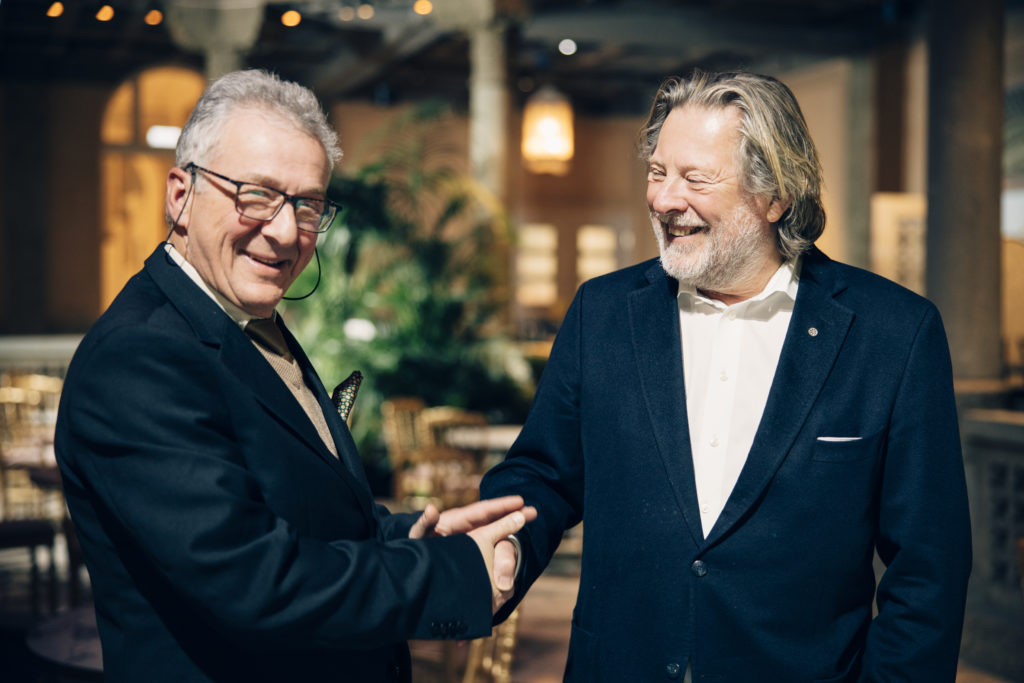 Herbert: There are hardly three weeks left before Britannia Hotel celebrates its grand opening. Allow me to first offer my sincerest congratulations! The entire staff, myself included, is thrilled. We are also curious to know how you feel, and how you feel your dream for Britannia Hotel has come along so far?
Odd: I believe that the staff and I can empathise with one another these days. We are all so enthusiastic. At the same time, I feel surprisingly calm. This could quickly change, however, as I am an emotional man. There are still a few weeks left and some work to be done.
H: This hotel is a great gift for the city, the region and our country. Just imagine, that a small city like Trondheim will have such a fantastic hotel, one that will raise the profile of the city internationally. What are your thoughts about Britannia Hotel's reopening?
O: The best thing about this is that I don't have a background in hotels, though I have stayed in many. Every time I've discussed hotels and my experiences at them, my thoughts have always drifted towards Britannia. Everything starts with a vision, daring to dream big and committing to it. People might have thought that some of my initial ideas throughout the years have been a bit crazy at first. People who know me know that if I joke about something, there is always some seriousness behind it. I've waited for the day to welcome guests to Britannia Hotel as an owner since I was 14, it feels great to be able to do this and to accomplish and fulfill the dream in 2019.
H: You have had a distinguished career in business with many employees over the years. But this is perhaps the largest single project you have been involved in?
O: This is more personal. We have always focused on cultivating the best of what we can while being obsessively goal-oriented. This project, however, has always been something that has haunted me as something that I neededto do. It's completely different from our other areas of business and when we managed to buy the building, we immediately decided to do this refurbishment properly. It's what the hotel and the city deserve.
H: How has this project affected the work of your main business in Reitangroupen?
O: I feel I have involved all the other leaders and people in Reitangroupen on this journey. Everyone should feel proud and included in the project. Reitangroupen's values ​​are also Britannia Hotel's values. Many people in Reitangroupen have shared their feelings about the project, but I have always said "this may be something entirely different, but I have a vision for this hotel and I want you to share it with me". I want them to feel that this is their project as well, because had it not been for them, we would not have had the opportunity to make this project a reality.
H: As the leader of such a large and varied hotel, are we seeing your shift from Colonialmajorto 'Hotel Major'?
O: As a young man I played drums in a military marching band, competing internationally. Our major was a great influence on me. I remember him motivating us before a big performance in Germany, in front of a crowd of 60,000 people. "We are Norwegian and we will be the world's best drill band!" He wanted us to be the best at everything we did and twenty minutes later that amazing feeling of the audience applauding us off, stamping their feet, that has always stayed with me and motivated me.
Some years later a journalist asked me what my title was, but I always thought titles were a bit foolish. They say little of what someone really is or does. At the time I was working at REMA 1000, so I said I was a merchant. But that wasn't good enough for the journalist. So that's when I came up with this title 'Colonialmajor'. The next day it appeared in the headline in the newspaper and it has stuck ever since.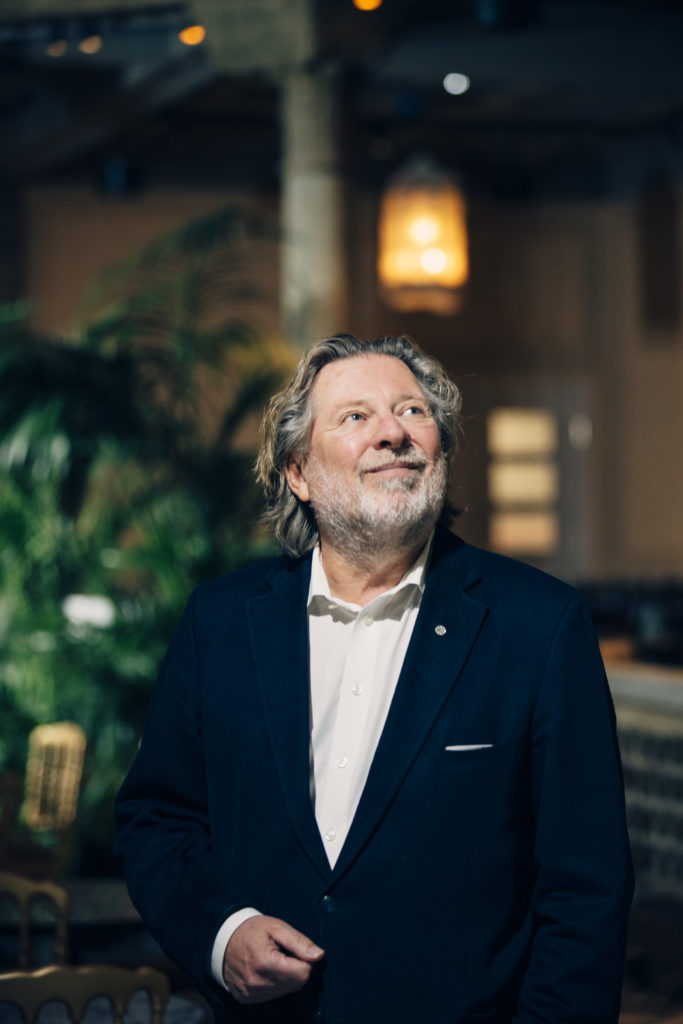 H: Industry leaders across the country have talked about how they are looking forward to the completion and opening of the new Britannia Hotel. You have chosen to turn a historic building into a flagship for the entire city. What kind of place do you think Britannia Hotel will ultimately end up being?
O: I hope this will be a hotel that absolutely everyone feels welcome to visit. When I was a kid, we couldn't afford to come here very often, but we always came on special occasions. It really is this diversity that I look forward to. I want guests to come in for a small snack, a glass of wine or a drink. At other times, I want visitors to come to treat a special someone to a first-class dinner in Speilsalen. I want it to feel like a second home for everyone. There should always be a reason to go to Britannia and explore our different concepts, whatever the occasion is.
H: You have a lot of love for this city and the region you grew up in. Maybe not everyone knows that about you? Do you think Britannia Hotel will help change people's perspectives?
O: People will talk about how much is being spent and made. I understand that people might think like that, but I also believe that the values ​​we create are what will define us. We believe in reinvesting into new projects, creating local value. I want this hotel to give something to everyone, and that's what matters to me. Britannia Hotel is a project which can affect the whole of Trøndelag as a region in many different ways. We are bringing a new market with high-end international guests to the region, and putting Trondheim on the map through the publicity and attention we achieve after re-opening as a five-star hotel in a country that doesn't have many five-star hotels.
H: I have no doubt that everyone working here will do our very best to impress and I know I'm not the only one who looks forward to seeing what is possible. May I ask, why did you want to have a 5-star standard here? What does it mean to take a hotel to that level?
O: Because that was the dream! We want to reopen at the highest standard: that's what makes this project interesting and challenging. We have fantastic interior architects, Metropolis, who have done a great job on making sure this hotel is unique and in a modern classical style. I would also like to emphasize the talent and expertise of the staff we`ve hired to work here to fulfill our vision of creating a destination in itself with this hotel.
H: We are a great team working here and everyone really does feel lucky to join you on this momentous project. We are literally counting down the days. Personally, I cannot wait to see guests arrive and I'm excited to see what faces will pass through these doors.
O: We will certainly have many guests from both Norway and abroad. But the desire is that when 'Ole from Verdal' (the Norwegian Joe Bloggs) wants to enjoy a special weekend, then Britannia Hotel in Trondheim will be his top choice. That he will feel at home here. Likewise, when foreign travellers are planning their trips to Norway, I hope Britannia Hotel is itself a reason to leave Oslo for a trip north. I myself have a long tradition of Christmas dinners in Oslo with friends, but now I want to have them here. Several of my friends have already booked rooms. My desire is to create traditions. I want people to say "it won't be Christmas without visiting to Britannia!".
H: I want to say that, on behalf of the team and the staff here, we are very proud and privileged to work in such a wonderful environment. I truly believe that the Britannia Hotel is a place that will thrive for hundreds of years. I used to say: "If there is a life after death, then you know where you'll find me."
O: Haha! You'll most likely find me here too.