2020 marks Britannia Hotel's 150th anniversary. To celebrate this milestone, we will look back over the years at some of the notable occasions and figures from the hotel's history, starting with the architect of the infamous 'white swan' facade, Karl Norum.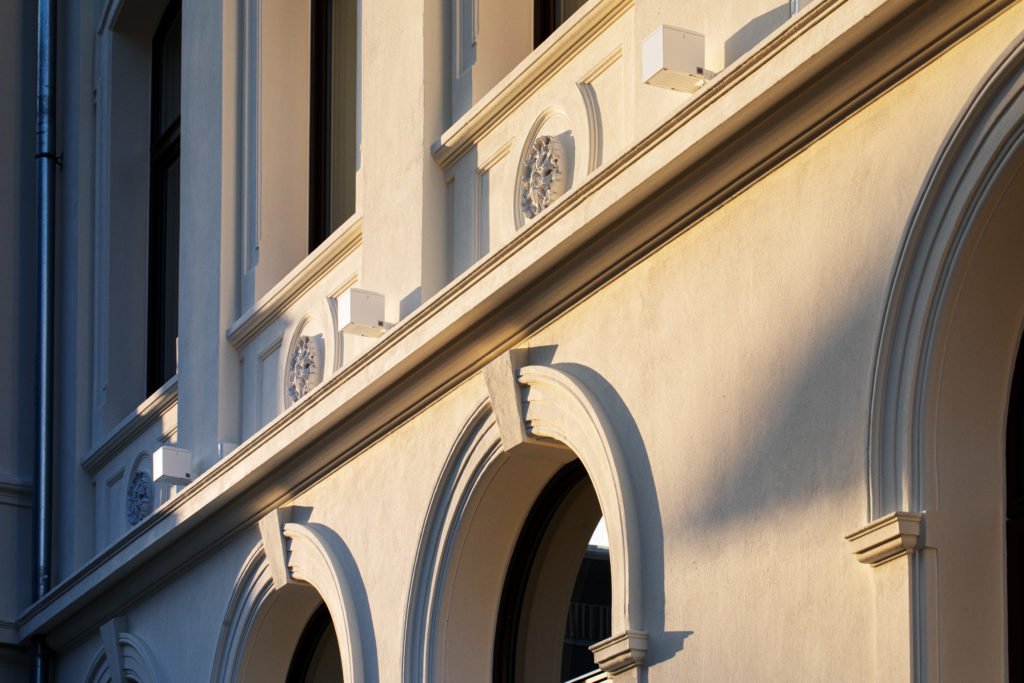 Karl Martin Norum (1852-1911) is the original architect of Britannia Hotel.
A farmer's son from Levanger, he would go on to become one of the most prominent Art Nouveau style architects in Norway. Norum is described as a man of many interests and was a founding member of architect association Nordenfjeldske Arkitektforening. He also played a fundamental role in initial promotion of Norges Tekniske Høyskole (NTH), the forerunner to today's Norwegian University of Technology and Science (NTNU).
From 1872-75 Norum received his technical education at Trondhjems Tekniske Læreanstalt (TTL). Following this, he worked as a surveyor for five years, during which time he took part in the construction of the railway between Støren and Røros.
A talented drawer, he was eventually hired by architect Johan P. Digre in Trondheim. He lacked formal education as an architect, but attended his friend Lars Solberg's lectures at TTL, gaining relevant and necessary skills for his later practice.
Following a period working as an assistant at the state engineer's office in Trondheim from 1884-86, Norum was promoted to head architect in the Digre family's large construction firm. Here, it is likely that he was responsible for Digre's production of pre-fabricated houses in national romantic style. The production of villas and churches was especially high. Many were built in the popular dragestil ('dragon style'), expressing national romanticism and drawing inspiration from Viking and Medieval art and architecture. There are several beautiful villas designed by Norum still in existence. Prime examples of his dragestil-houses are Rognli (Villa Schüren) located at Lade and Villa Kvernbakken at Grilstad, both a little east of central Trondheim. The latter is well kept and stands as an example of some of the best architecture of its day.
Norum also designed ten churches, spread along the Norwegian coast from Neiden in Sør-Varanger by the Russian border in the north to Møre in the south. All of these are designed according to the same dragestil ideas. Norum was adamant in his effort to shape a unified building style throughout his life, sharing his thoughts in an article called Norsk Træbygningsstil (Norwegian style of wooden buildings), published in the book Trondhjems Tekniske Læreanstalt 1870-1895.
Some of Norum's houses are designed around the popular building style of his day, historicism, which is the style of Britannia's magnificent building. Several other buildings in Trondheim in the same style, are also designed by Norum. Most notable is probably the domed Mathesongården, inspired by St.Peter's Basilica in Rome. Norum is also the architect of the Freemason's building in Trondheim, Trondhjems Sykehus and the famous dragestil restaurant building at Hjorten, which has sadly been demolished. The proprietor of this restaurant, German-born Fritz Topp was hired as porter and head butler at Britannia Hotel in 1894. Together with his wife Olga, he later bought Britannia Hotel in 1911.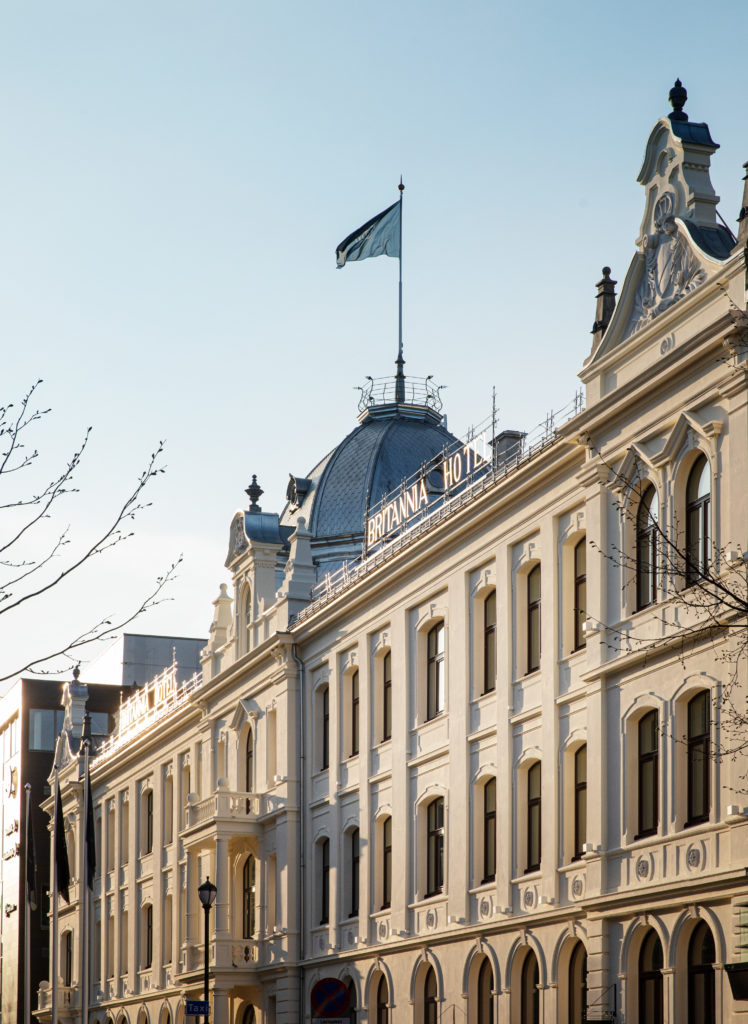 Adjacent to Britannia Hotel is a beautiful building, Nordre gate 9 in Trondheim. This building was built in 1903 and marks a significant change of style in Norum's designs. It has rounded exhibition windows and ornamental décor and is one of the main works of the Norwegian Art Nouveau style of architecture, also known as Jugend style. From then on out, Art Nouveau was Norum's preferred style. His work is prominent in the Art Nouveau city of Ålesund, as he was one of the architects responsible for reconstruction following the 1904 city fire.
Later on he would incorporate roughly cut stone and plaster in the façade of his buildings. Norum's trademark became grotesque masks with association to the Norwegian middle ages. Examples of this in Trondheim can be found in Norum's two last works, Tollboden and Posthuset.
Norum also had a large degree of social involvement. He was a member of both city council and presidency. He held appointments as a juror and participated in a number of committees. His interest in theatre is shown in his involvement with the group that pushed for the establishment of the theatre association Trondhjems Theaterforening in 1892. His work for singers was of such prominence that the bust on his grave at Nidarosdomen Cathedral was paid for by Trøndernes Mandssangforening, a society for male singers.