Britannia Spa
Treat yourself with an everyday luxury
Opening Hours:
Reception, saunas and pool:
Monday to Friday 07.00 – 21.00
Saturday and Sunday 08.00 - 21.00
Pool time for children (0-15 years old) one hour between: 09.00 – 11.00 . During Norwegian public holidays we have an additional pool time for children between 15.00 - 17.00 (choose one hour per day either 9-11 or 15-17).
Children (0-15) years needs to be accompanied by an adult to visit the spa during these time slots.
Spa treatments: 08.00 – 20.00
Maintenance notification 02.10 - 06.10: One of Britannia Spa's heated pools will be closed for necessary maintenance work from Monday 2nd October until 3PM on Friday 6th October. The round pool with starry sky and also the steam sauna will be closed during this period, while all other areas (including saunas and the swimming pool) are open as normal. We apologize for any inconvenience caused.
Access to the spa is available for hotel guests and those with pre-booked spa treatments. If you are a hotel guest, please use the shower in your room before attending the spa in your bathrobe and slippers.
If you have booked a treatment you have also free access to the spa facilities before and after your treatment. If you are a staying guest at the hotel you have free access to the spa facilities for the entirety of your visit.
Beautifully designed, the new Britannia Spa is a modern, elegant oasis of tranquillity. Enjoy a good massage or choose your preferred treatment in the extensive menu. The spa boasts six treatment rooms, a heated lap pool, sauna, steam room, ice bath, , gym, infrared cabin and much more. With experiences tailored to your individual needs, Britannia Spa offers the ultimate in relaxation and rejuvenation for both the mind and body.
The 1,400m² spa and fitness area includes a 12.5m lap pool, flanked with deep, comfortable loungers and soft lighting for the perfect unwinding experience. Entrance to the spa – which is restricted to hotel guests and members of the public who have booked treatments – permits use of all the features, including the three Nordic saunas, supplied by Badstu, and the signature mineral pool, with its Astral Lights dome. The interior decoration is delivered by Metropolis Architecture & Design.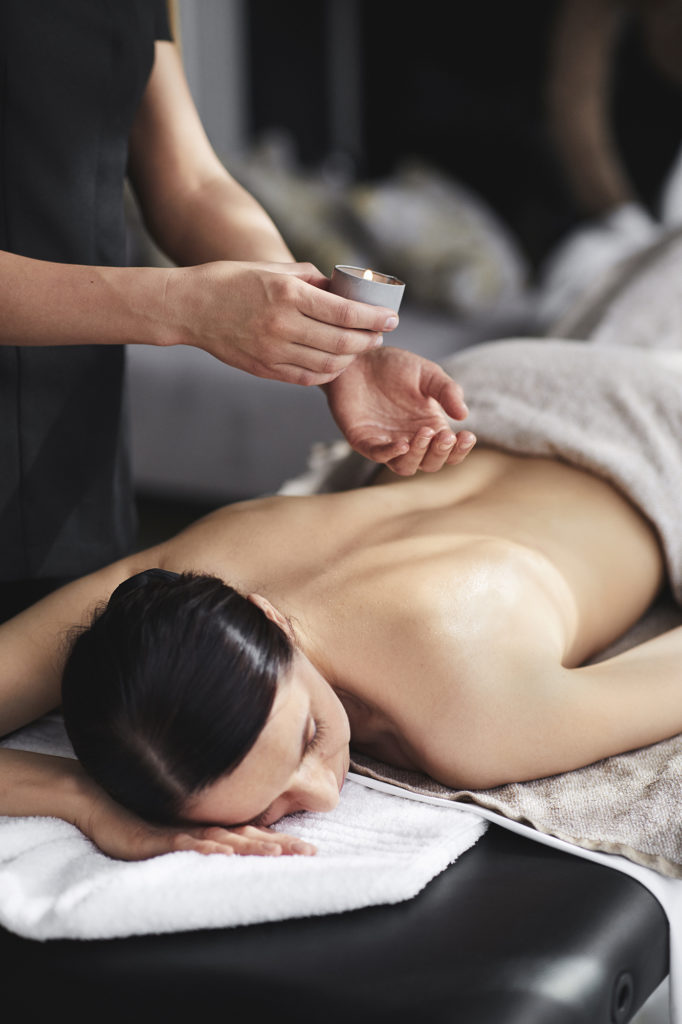 Britannia Spa's menu has been developed by a hand-picked team of spa and fitness professionals, with varied backgrounds and skillsets, to ensure you receive the correct treatment for your needs. The menu includes a range of massages, wraps & scrubs, facials pedicure & manicure, gentlemen's spa and a specially developed series of treatments for kids and teens. Britannia Spa uses products by ELEMIS (UK), Vitalis Dr Joseph (Italy, organic) and Pino (Germany, organic).
To book an appointment send us an email on spa@britannia.no or call us on +47 73 800 806 (07:00 - 21:00 Monday - Friday and from 08:00 - 21:00 Saturday and Sunday)
Britannia Spa is open to all guests at the hotel, and members of the public who have booked treatments. At the time of your treatment you have unlimited access to the pools, saunas and steam rooms. Swimwear is the required attire when using our facilities.
We have towels, slippers, bathrobes, shampoo, conditioner, shower gel, body lotion and styling tools for your hair available in our wardrobes.
Please be advised of our non-smoking and no-alcohol policy in the entire Britannia Spa & Fitness facilities. Adjust the volume on your conversations to the environment and turn off the sound on your mobile phone. We also kindly ask you not to use cameras in the spa, to ensure absolute privacy for all guests using the facilities.
If you are a hotel guest and want to use the Spa & Fitness facilities the day you are leaving after check out, this is possible for a fee of 250,- NOK per person.
Britannia Signature Hot Stone Massage 75 min

Price 2400,-

Britannia Signature Hot Stone massage is full body massage treatment that combines classic Swedish massage with heated stones. Perfect for de-stressing treatment, with a unique experience of pleasure and relaxation.

Britannia Signature Facial 80 min

Price 2200,-

Our signature facial includes a skin analysis, an individually adapted facial treatment for what your skin needs, facial steaming, ultrasonic peeling, light therapy, as well as a recommendation for further treatment and home care of your skin. You will also receive a relaxing massage of the neck, scalp and arms.

Britannia Signature Salt Scrub & Body Massage 75 min

Price 2200,-

The perfect treatment for skin which has become dry or lost its glow. A specially-made salt scrub exfoliates your body with from the neck down, followed by a relaxing aroma massage for the whole body to well-being and relaxation.

Britannia Signature Body Wrap 50 min

Price 1900,-

A moisturizing and cleansing treatment for the skin, with a mixture of black clay from the Dead Sea rich in minerals and salt to remove dead skin cells. After the product is applied to your entire body, you will be wrapped in a warm blanket and you will receive a massage of the face, scalp and neck. Perfect for dry skin and for those with stiff/sore joints and muscles.