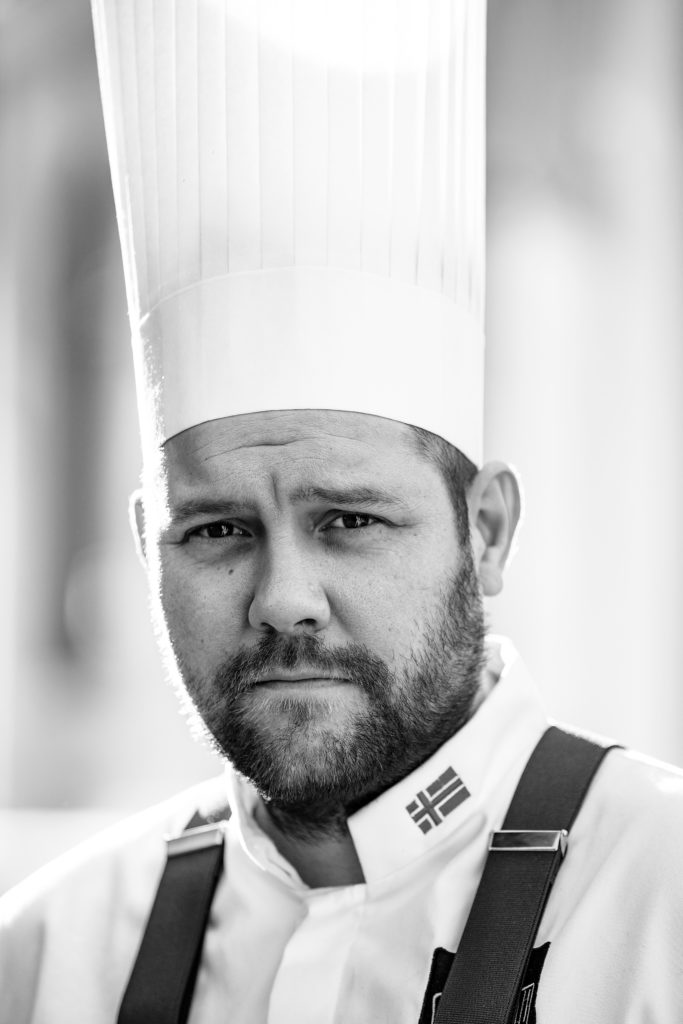 The mirror image of any given subject is often taken to be its direct opposite. In actual fact what you are seeing is reality with its parts reversed; your face, but arranged differently from how others observe you. Reflections are imperfect, and so to be surrounded by mirrors is to have no sanctuary from the difficulties which define you.
Christopher Davidsen is no stranger to difficulty. His path has been one of extreme hardships, overcoming a broken home and problems with parental substance abuse. Yet today he opens his first signature restaurant, Speilsalen, his very own room of mirrors, with all his imperfections on display. It's Christopher's heart on a plate, his pièce de résistance.
Life is full of surprises, and if you look closely, you will find inspiration and influence all around you. This is what I want our guests to feel when they visit us in Speilsalen

Christopher Davidsen, Bocuse d`Argent World Champion Chef and Head Chef at Speilsalen, Britannia Hotel, Trondheim
Rewind three decades and this young boy's future was not looking so bright. Together with his two-year-old sister, Christopher had his life turned upside down by their parents' misguided actions. Forced into foster care, he had his share of challenges and filled his quota of poor life choices. Christopher is not ashamed of his upbringing however and has chosen to be open about his story in order to help others who experience similar situations realise there is indeed a light at the end of the tunnel, and a starry future for all those who choose to pursue it.
"I think it is absolutely fantastic that my past is brought forward as an example," says Christopher, whose story was shared by Norwegian Prime Minister Erna Solberg in her 2019 New Year's speech."There are probably quite a few people around Norway who have similar childhoods. I hope that I can inspire others who have problems and encourage more people to become foster parents."
Despite the safe and loving upbringing in his foster home, and even though he called his foster parents mum and dad, Christopher nevertheless left his new home when he was 14-years-old after being caught smoking and stealing from his foster father's brandy bottle. Instead of talking to his new parents, he fled to join his biological mother in a home where there were no rules. The first time he tried cannabis was with her. At his own request, he ended up in various institutions instead of returning to his foster parents.
"I was never on very strong substances but I was living in a poor environment, where those around me had problems with addiction. I was the youngest, and it was becoming difficult to say no," remembers Christopher, who at least had the wherewithal to get out before it was too late.
Surrounded by intimidating, older strangers at such a defining stage of life, Christopher's path could have taken an even darker turn. At this stage in one's development, poor choices about how to react to external influences can be hard to recover from. After his 21stbirthday, Christopher got his first job.
He started out washing dishes at Tyholmen Hotel in Arendal and gradually made his way into the kitchen. This is where he made the decision to set new goals for himself. He chose to reject the hand he had been dealt in life. Christopher found inspiration in the kitchen, and food has influenced his life ever since. His past has guided him during times of pressure and led him to achieve the unimaginable in the kitchen. Christopher has used his mirror image to motivate himself, weaponizing his hardships to achieve great success in his career as a chef.
The kitchen was, in a professional context, Christopher's first encounter with discipline. What he learnt was that he had not consciously chosen to drift. He had been a slave to his circumstances. The kitchen, with its strict set of rules and its precise methods, offered him an alternative universe, one which he embraced.
Christopher honed his skills when he joined chef and mentor Steffen Engelhardt at Statoil Canteen in Stavanger in 2006, but not without some tough love along the way. Steffen kicked him out of the kitchen on the first day for not shaving, but he also laid the first seeds of a dream to compete at the highest level.
"I started to think of competing in the Bocuse d'Or. The most important thing is that one must dream of joining this competition. Without the dream, you just give up. I had that dream for 10 years. When I felt that I was getting ready, I trained myself mentally for four years with the chef's national team and competed in many smaller cooking competitions. Altogether it would be about six years before I competed in Lyon," says Davidsen, who won silver in 2017.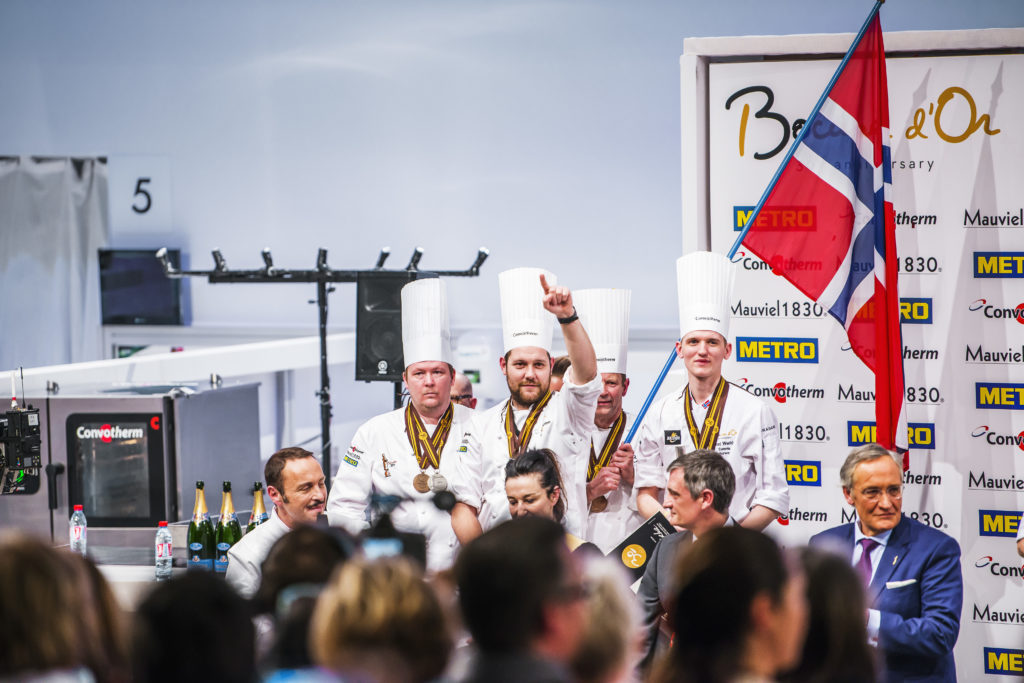 Christopher had already been crowned a World Champion Chef in 2015. When he made a decision to target the Bocuse d'Or his wife Siri gave him the third degree about the commitment he was taking on. She knew very well what dedication it takes to meet the exacting standards of this prestigious international gastronomy competition. Siri also knows that Christopher thrives off the pressure and she can now stand shoulder to shoulder with him, proud in the knowledge that his name and culinary reputation are now known the world over.
Today, you will find Christopher at Speilsalen in a constant search for new culinary experiences. The finest handpicked Norwegian produce is prepared with the utmost care and respect; no detail is overlooked, and taste is the foremost goal of every effort. To complement Davidsen's creations, the five-time Norwegian wine sommelier champion Henrik Dahl Jahnsen is in charge of wine and other beverage pairings.
"Life is full of surprises, and if you look closely, you will find inspiration and influence all around you. This is what I want our guests to feel when they visit us in Speilsalen. The experience mirrors parts of my story and, hopefully, is reflected in new experiences for our guests. Elements of surprise will guide you through what we serve," finishes Christopher.
Christopher's biological mother died in November 2016 at 51 years of age. His little sister and foster parents remain as great influences in his life to this day.
Updated 2020: Christopher Davidsen achieved 1 Michelin Star in The Michelin Guide 2020, only 10 months after opening his new signature restaurant Speilsalen in Britannia Hotel April 2019.