+47 73 800 800 
Breakfast:
Mon-Fri: 06:30-10:00
Sat-Sun: 08:00-11:00 
Lunch:
Mon-Thurs: 11:30-16:00
(last seating 15:00)
Afternoon Tea:
Fri, Sat & Sun: 13:00-17:00
(Last seating 15:00)
Palmehaven
Britannia's Iconic Hall
A lush and exotic oasis of international flavours, art and culture from all over the world. Palmehaven is an institution in Trondheim, a venue for culinary and cultural events, where atmosphere meets tradition. During the weekdays you can indulge in Trondheim's most exotic lunch, surrounded by leafy green palms.
Five star hotel breakfast
Palmehaven and its adjacent historical salons is the location for the hotel's five star breakfast, where guests can enjoy a beautifully presented buffet, with meats and cheeses from award-winning Norwegian producers, alongside delightful day-starters such as the açai berry bowl, with granola and fruits. You can choose from the à la carte, with barista coffees, smoothies, porridges, egg cocottes, Røros thick-cut bacon and more, all made to order and included in the room price.
Breakfast is served Monday to Friday 06.30-10:00, Saturday to Sunday 08:00-11:00.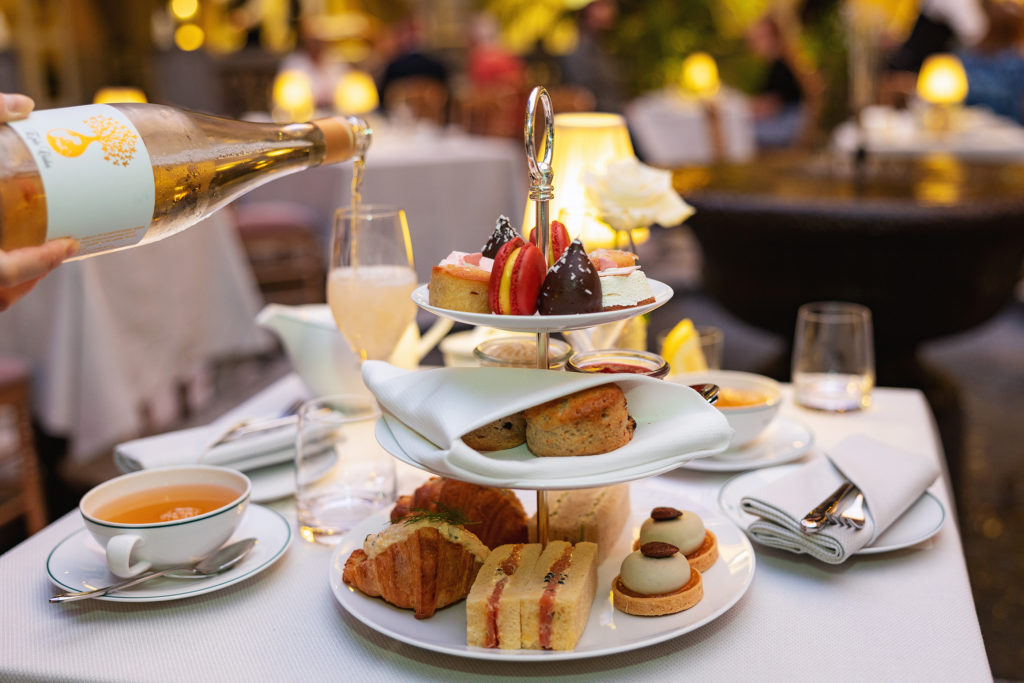 Our ever-popular Afternoon Tea in Palmehaven is served from 1pm to 5pm every Friday, Saturday and Sunday (last seating is at 3pm). Price per person 525,-. We also offer a specially-made children's version (up to 12 years old) for 310,-.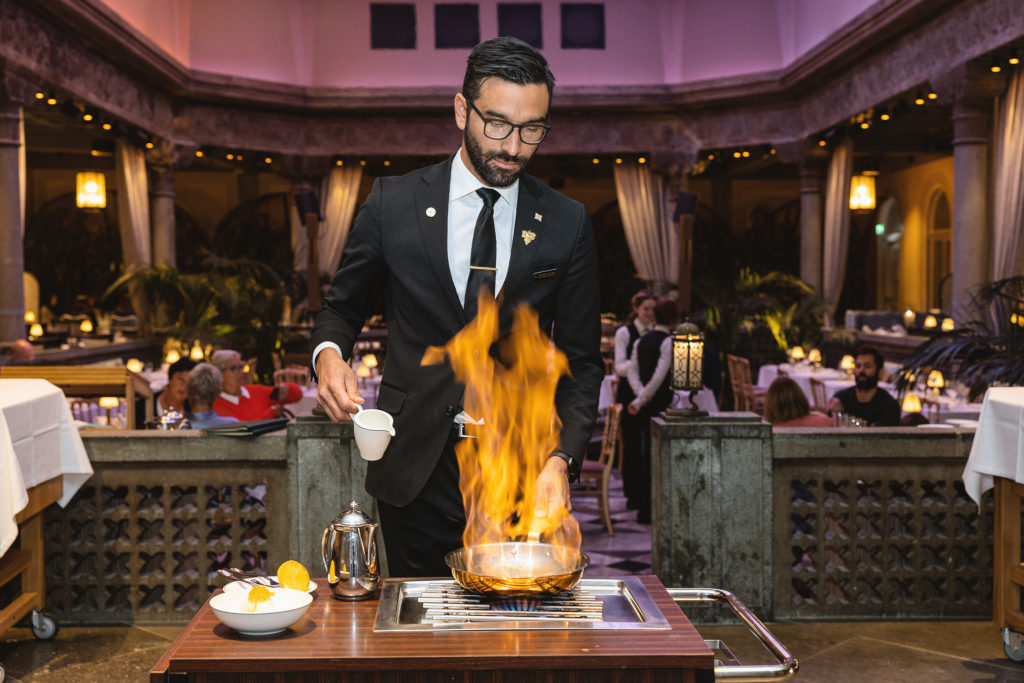 Our delicious lunchtime offering has new menus for autumn, and is available everyday Monday to Thursday. Enjoy our sumptuous sandwiches, exciting small dishes, warm lunches and delicious cakes in the exquisite settings of Palmehaven.
The new menu includes sensory delights, such as the new Ceasar Salad Britannia; tossed tableside, with roasted chicken thighs, baby Romano lettuce from Frosta, parmesan, sourdough croutons and Ceasar dressing. For dessert is hard to look past our Crêpe Suzette, flambéed tableside (pictured).
A very special atmosphere accompanied by live music from our regular pianist. Monday to Thursday, 11.30 - 16.00 (last seating at 15:00) - book now for secure a slice of midday luxury.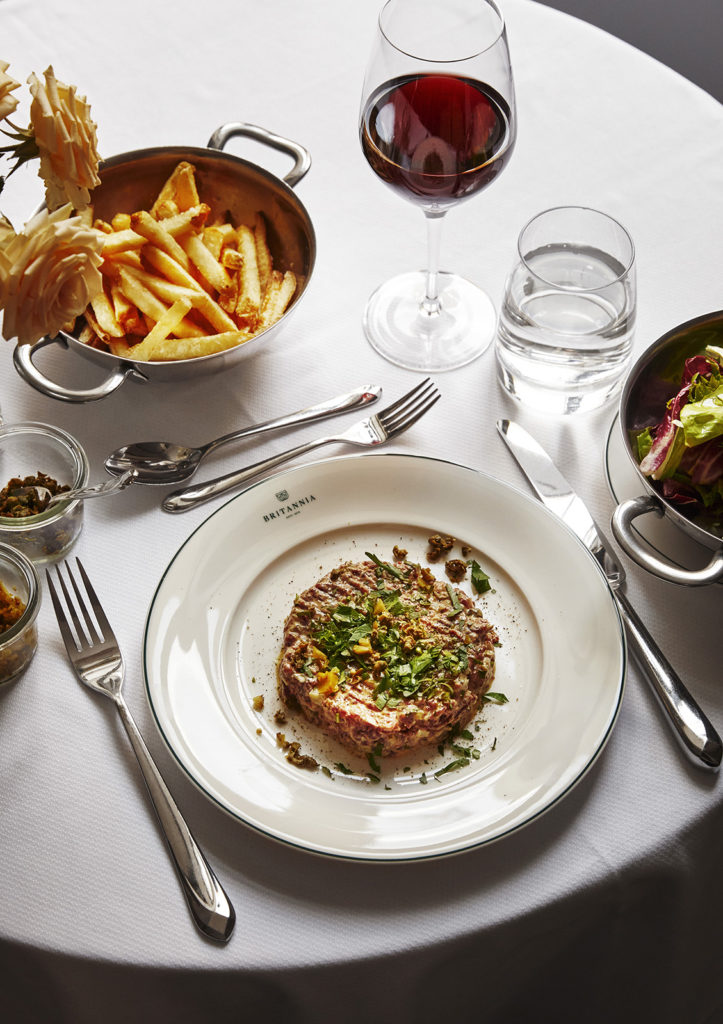 Palmehaven is available for private functions and also hosts variety of cultural occasions and musical events. Menus vary with the season. See the event calendar for details of when Palmehaven is open for historic dinners, concerts and family events.
Covid-19 / Corona Virus updates:
In accordance with current national and local restrictions our restaurants have limited capacity, in order to ensure the necessary distance between tables in the restaurant. If your party requires extra distance between each guest at your table, please contact us directly so that we can make arrangements.
In order to ensure safe and effective infection control, we ask all our bar and restaurant guests to pre-book their tables via our website or via 73 800 800. Please also show up for your reservation at the correct time, to avoid mingling, bottlenecking and unnecessary crowds in the common areas.
Thank you in advance for your understanding and compliance.
Palmehaven
Our menus
Your next Palmehaven dining experience starts here
Breakfast Menu

À la carte menu

Breakfast made to order, includes a selection of teas and coffees. Choice of special dishes for an extra special experience.

View menu

Afternoon Tea Menu

Friday, Saturday and Sunday

Britannia Hotel's delicious afternoon tea menu, including a section of luxurious drinks and extras, to elevate any occasion.

View menu

Lunches in Palmehaven

A slice of daily luxury

Sumptuous sandwiches, exciting small dishes, warm lunches and most delicious cakes. Monday - Thursday from 11.30 - 16.00

View menu
Palmehaven
First built in 1918, Britannia's iconic hall has played host to everyone from visionary politicians, to frostbitten explorers, to Parisian fashionistas and international stars of screen and stage.