+47 73 800 800 
Breakfast:
Mon-Fri: 06:30-10:00
Sat-Sun: 08:00-11:00 
Easter holiday 3rd-7th April: 08.00-11.00
Lunch:
Mon-Fri: 11:30-14:30 (last seating 13:30)
Afternoon Tea:
Saturday & Sunday: 13:00–16:00 (last seating 14:30)
Easter Afternoon Tea, 7th-9th of April: 13:00-16:30 (last seating 14:30)
Dresscode for Palmehaven is Smart Casual after 6pm / 18:00.
Palmehaven
Britannia's Iconic Hall
A lush and exotic oasis of international flavours, art and culture from all over the world. Palmehaven is an institution in Trondheim, a venue for culinary and cultural events, where atmosphere meets tradition. During the weekdays you can indulge in Trondheim's most exotic lunch, surrounded by leafy green palms.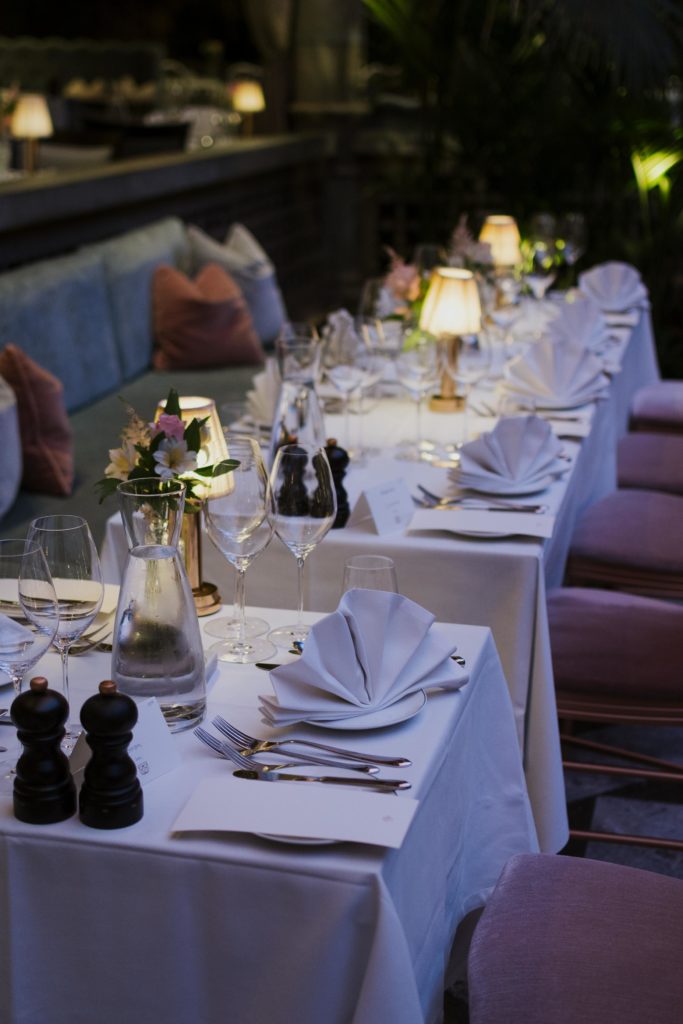 Five star hotel breakfast
Palmehaven is the location for the hotel's five star breakfast, where guests can enjoy a beautifully presented buffet, with meats and cheeses from award-winning Norwegian producers, alongside delightful day-starters such as the açai berry bowl, with granola and fruits. You can choose from the à la carte, with barista coffees, smoothies, porridges, egg cocottes, Røros thick-cut bacon and more, all made to order and included in the room price.
Today, breakfast at Britannia Hotel is breaking away from traditional Norwegian hotel fare and setting new standards when it comes to quality and sustainability.
At Britannia, there is an emphasis on seasonal food and à la carte dishes, which the chefs make to order for each and every guest. The menu includes both classic and contemporary dishes, and there is a greater focus on plant-based food, with a dedicated vegan page in the à la carte menu.
Breakfast in Palmehaven also includes a luxurious buffet, with a focus is on quality over quantity. Britannia's eminent kitchen prides itself on serving only the best products, which are presented in delicate portions, with frequent refills (instead of mountains of food which is encouraging of wastefulness). Palmehaven's modern approach to a breakfast buffet means fresher food and less waste - all served with the hotel's five-star style and service.
Most of the products on Britannia's breakfast table are either home-made or from local Trøndersk producers. The kitchen works closely with several suppliers to develop signature products, not found anywhere else. There is an emphasis on short-travelled food. The honey is from beehives on the hotel's roof, which also encourages pollination in the city centre.
Britannia Hotel has also established a farm, beside by lake Jonsvatnet, growing vegetables, fruit, flowers and herbs, exclusively for the hotel. Among other things the farm (Braattan Gaard) makes the delicious cold-pressed apple juice for Britannia's breakfast.
Palmehaven chefs and waiters are regularly visitors to the farm and active participants in the planting, harvesting and produc- tion of Britannia products. Food waste from breakfast is also composted at Braattan Gaard, improving the soil and further enhancing the hotel's sustainability credentials.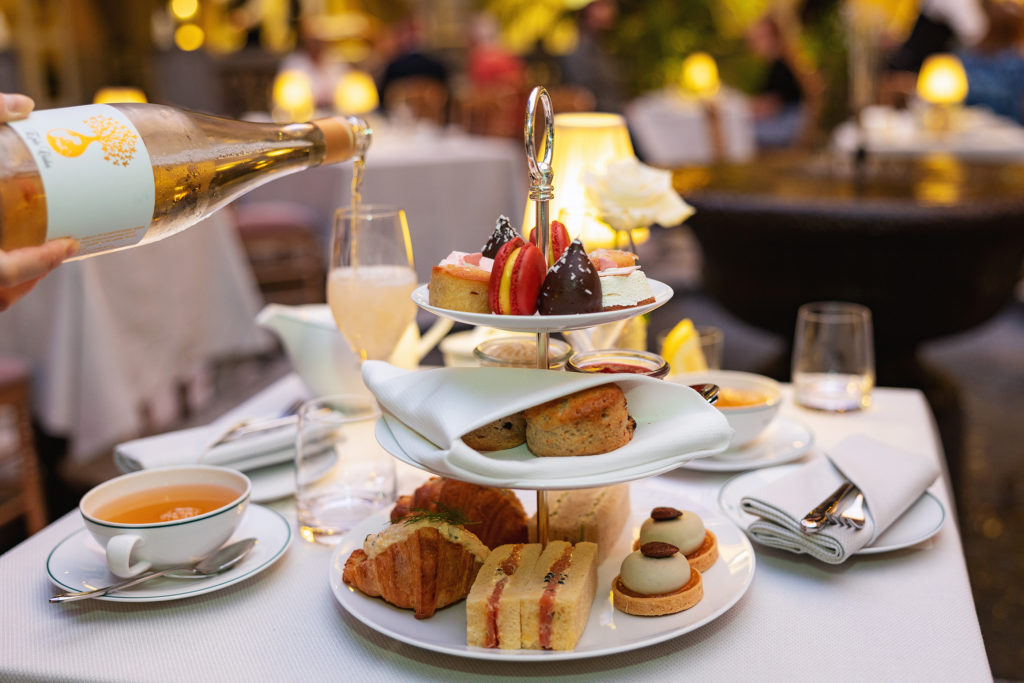 Our ever-popular Afternoon Tea in Palmehaven is served from Saturdays & Sundays 1pm-4:30pm (last seating 2:30pm). Price per person 655,-. We also offer a specially-made children's version (up to 12 years old) for 385,-.
During Easter weekend (7th-9th April), we will also be serving Afternoon Tea (1pm-4.30pm, last seating 2.30pm).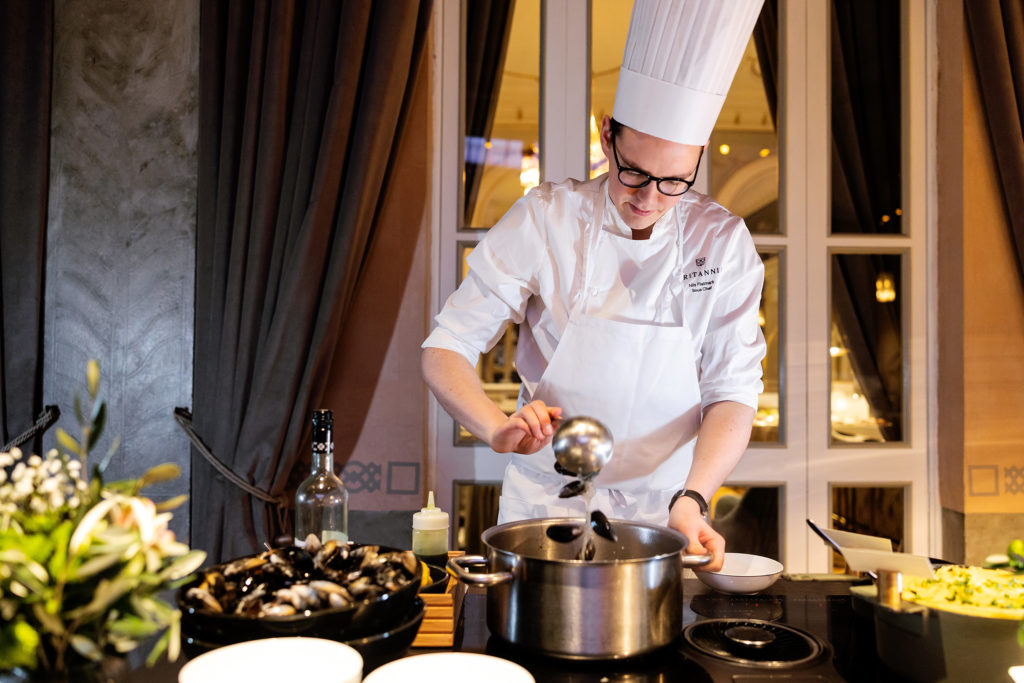 Our lunch buffet is served under the palms in the beautiful Palmehaven, Monday to Friday. The buffet consists of a varied selection of seasonal local ingredients, including allergy-friendly, vegan and vegetarian options. Here you will find cold and hot dishes prepared by our skilled chefs. Britannia's own patisserie team also provides sweet delights made with real craftsmanship.
Palmehaven has a very special atmosphere which has been attracting guest from all walks of life ever since it opening in 1918. Today, we uphold the traditions which have made made this such a special place in people's hearts, including live music from our regular pianist.
Palmehaven is open for lunch Monday - Friday from 11.30pm until 3pm. Last seating for lunch is at 1.30pm.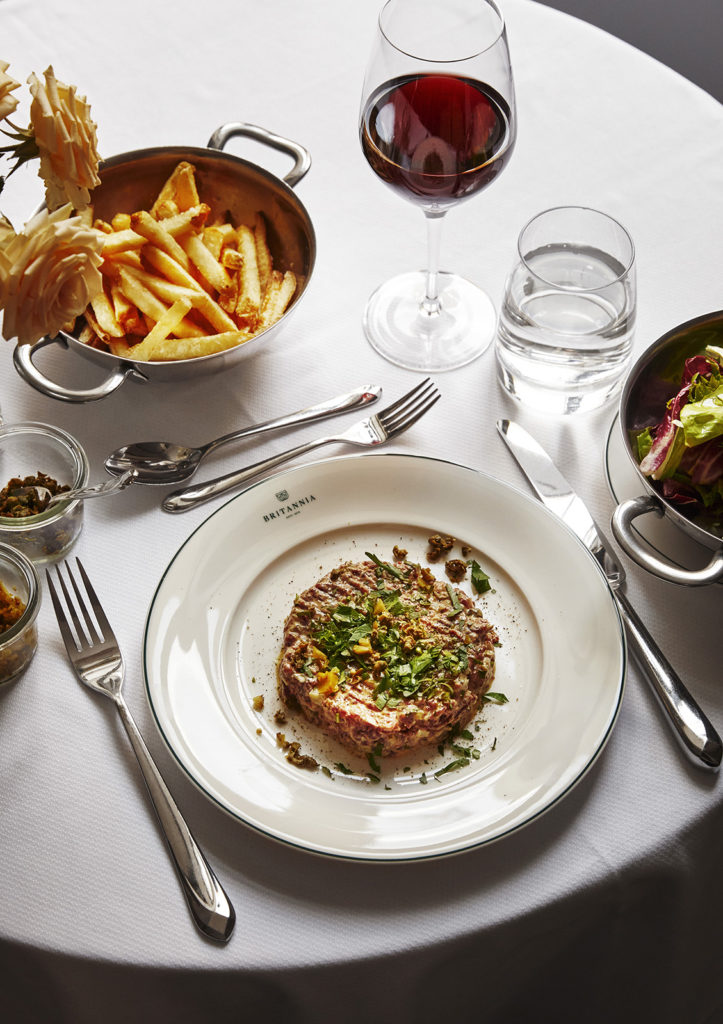 Palmehaven is available for private functions and also hosts variety of cultural occasions and musical events. Menus vary with the season. See the event calendar for details of when Palmehaven is open for historic dinners, concerts and family events.
Palmehaven
First built in 1918, Britannia's iconic hall has played host to everyone from visionary politicians, to frostbitten explorers, to Parisian fashionistas and international stars of screen and stage.