+47 73 800 807
Opening Hours:
Wednesday to Friday: 16:00-24:00
Saturday: 13:00-24:00
Saturday lunch: 13:00-16:00
Vinbaren
Regular Opening Hours
Limited due to restrictions:
Wednesday to Friday 16:00-24:00
Saturday 13:00-24:00
On Saturdays, Vinbaren offers lunch menu from 1pm, with light meals, charcuterie and cheese. The deli is open during the same opening hours (see below for more details).
Wine bar and wine tasting
Britannia's Vinbaren (The Wine Bar) is a living cellar. A bar and three wine tasting rooms, lined by 10,000 of the world's best bottles. To step down into this hallowed space is to immerse yourself in the broadest selection of wines found anywhere in Norway, accompanied by the finest cheese and cured meats. Served by some of the greatest sommeliers in the region. Here lies the opportunity to taste some of Britannia Hotel's finest wines.
In order to establish the collection, Britannia scoured producers from all over the world, acquiring bottles not on the market anywhere else and securing exclusive vintages. Vinbaren is a destination for both experts and beginners. It has an excellent selection of French, Spanish and Italian wines, and an even more impressive array from other wine-producing countries like Portugal, Lebanon, USA, South Africa et al.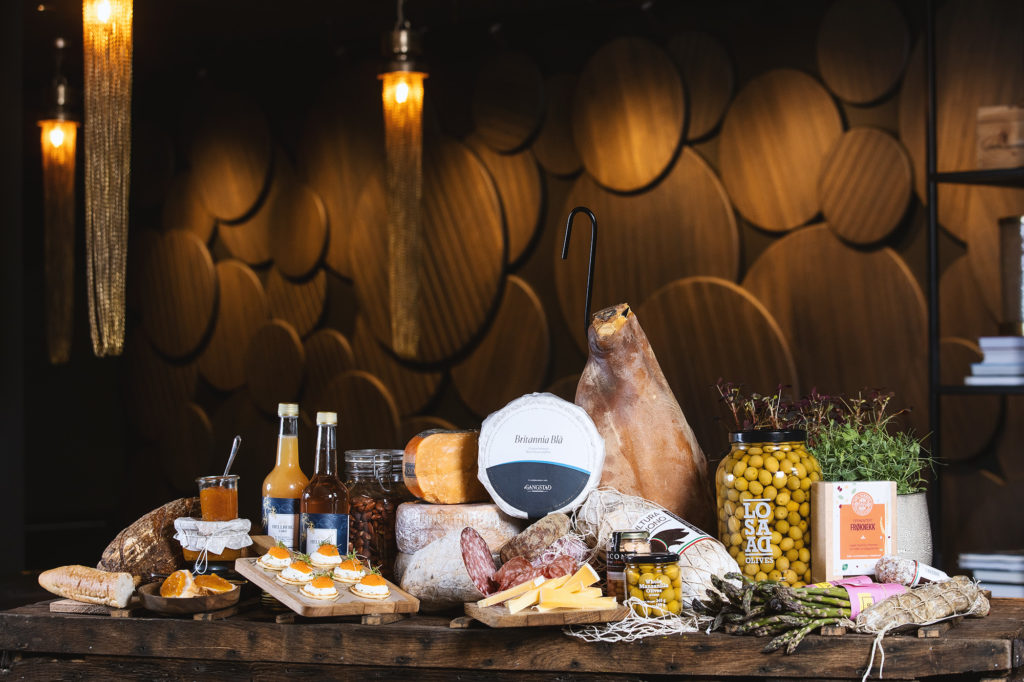 Vinbaren's new deli concept has a selection of homemade products from Britannia's restaurants and bars, plus exclusive items from the rest of the world. Now you can purchase several of your favourite Britannia tastes to take home. Brasseriet's onion soup and umami burger, ready-made stocks, risottos and stews, duck confit, homemade marmalade from Palmehaven's breakfast and Afternoon Tea, dry-aged meat from Jonathan Grill, Speilsalen's signature caviar, freshly baked bread from our bakers, homemade cheeses such as Britannia Blue (made in collaboration with Gangstad Gårdsysteri), ham, meats sliced fresh in house and much more.
Spoilt for choice? Each week we curate a Weekender Pack, suitable for two people. A collection of some excellent products, to lift the end of your week. The contents vary week-by-week, reflect the seasons and celebrate the chefs' creativity. Read more about this week's pack here.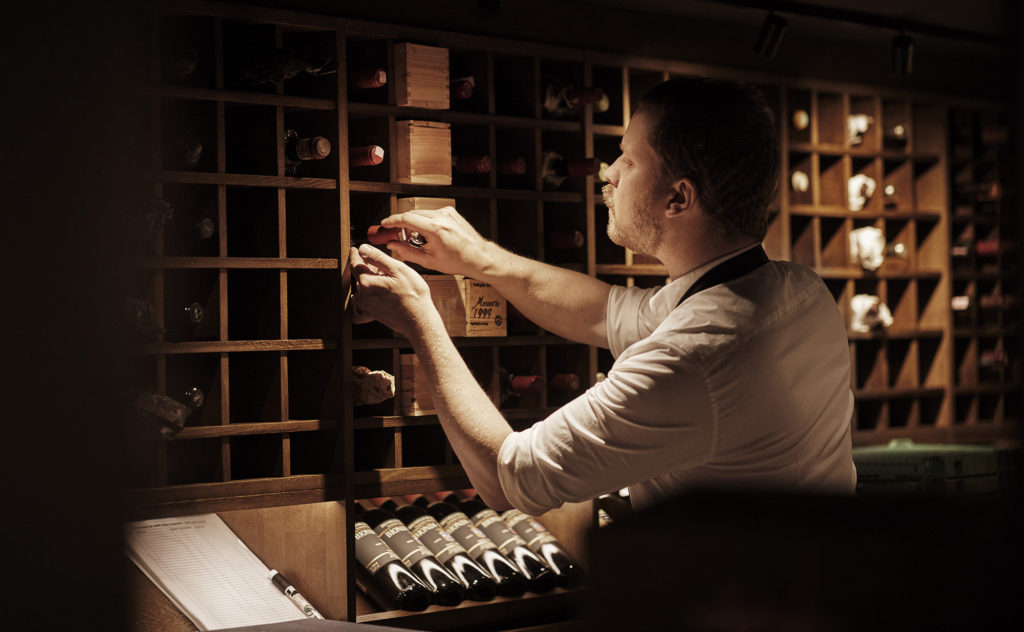 Every Friday, Vinbaren manager Thomas Anderson digs deep into Britannia's wine cellar to find a special bottle of wine to kick off the weekend (he 'pops the bottle' at 5pm). For wine lovers this is an opportunity enjoy rare bottles, sharing the cost with other aficionados. the perfect start to the weekend!
The musicians from the top shelf of the city's jazz scene, as well as some selected guests from out of town. Playing 50s and 60s jazz à la Miles Davis, Wes Montgomery and Bill Evans. Expect quality both on stage and in the glass. The jazz and wine experience starts at 9pm every Thursday, free entry.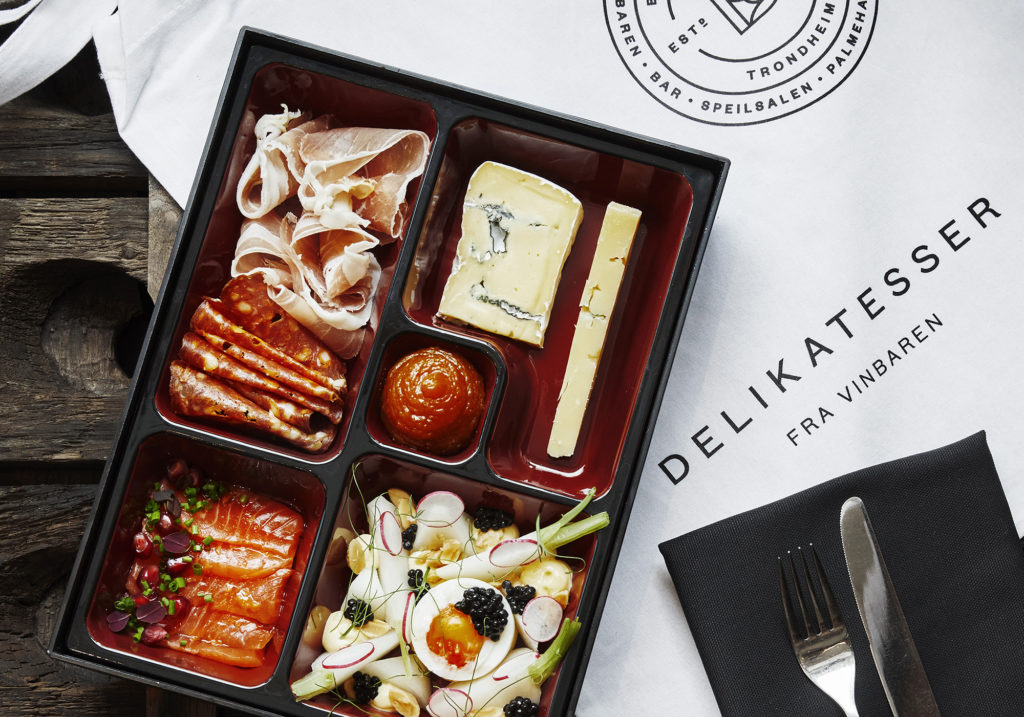 Every Saturday from 1pm, Vinbaren serves lunch with a continental twist. Pop in for to pick up your weekend supplies from the deli counter, stay for a light lunch, some choice cuts from the charcuterie and cheese with fresh-baked bread, snacks and a perfectly chosen glass of wine.
Covid-19 / Corona Virus update: Our restaurants have limited capacity, in order to ensure the necessary distance between tables in the restaurant. If your party requires extra distance between each guest at your table please contact us directly so that we can make arrangements. In order to ensure safe and effective infection control, we ask all our bar and restaurant guests to pre-book their tables via our website or via 73 800 800.
Please also show up for your reservation at the correct time, to avoid mingling, bottlenecking and unnecessary crowds in the common areas. Thank you in advance for your understanding and compliance.
Read more about how we are responding to the latest regulations here.
Vinbaren
Our menus
With thousands of wines available, with hundreds available by the glass, Vinbaren is the perfect place to while away an afternoon or evening, exploring the all the delights the cellar has to offer.