+47 73 800 805
Booking: Mon-Fri 10-18
Regular Opening Hours:
Wed-Sat: 18:00-24:00
(Chef's Table and last seating 20:00)
Champagne Lunch: Saturdays 12:30-16:00
(Last seating 13.30)
Closed Sundays, Mondays and Tuesdays.
Career and internship:
Send your application to
Speilsalen
Reflections of Grandeur
Covid-19 / Corona Virus update: There is slightly reduced capacity to ensure good space between customers. Speilsalen follows the guidelines from the national and municipal governments. We would like all our guests to prebook their table before entering Britannia Hotel, either online or call us at +47 73800800. You can read more about the hotel's measures to ensure a safe and healthy visit here.
Speilsalen (the 'Mirror Hall') is hosted by World Champion Chef and Bocuse d`Or silver medalist 2017 Christopher Davidsen. He presents a culinary journey unlike any other, with a focus on perfecting the elements of surprise. Only 10 months after opening, Speilsalen was recognised with its first Michelin star (February 2020).
As the first signature restaurant by Christopher Davidsen, Speilsalen offers the finest handpicked Norwegian produce prepared with the utmost care and respect. No detail is overlooked, and taste is the foremost goal of every effort. To complement the head chef's creations, the four-time Norwegian wine sommelier champion Henrik Dahl Jahnsen is in charge of wine and other beverage pairings.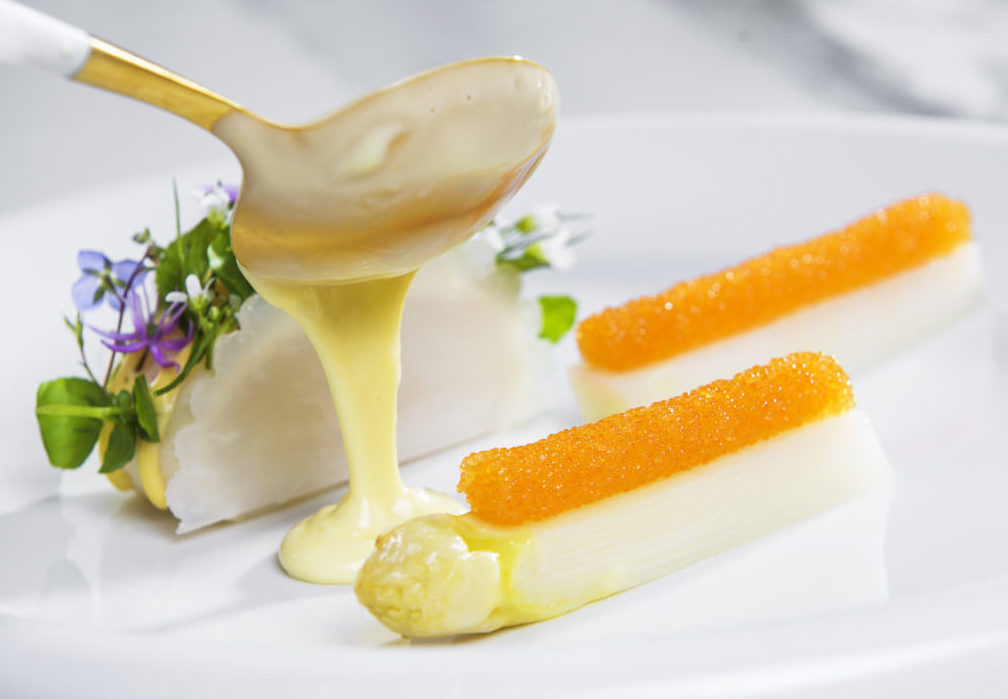 A unique fine dining experience
Speilsalen has for generations been a room of countless conversations and fine dining in Trondheim. A dinner here was unlike anything else in town, encircled by beautiful mirrors and reminiscent of a palace ballroom.
Today's Michelin-starred restaurant mirrors the spectacles of the past and entices food enthusiasts from around the world, with ground-breaking cuisine. Here you will experience fine dining of the highest order.
Guests can choose to sit in front of the action at the Chef's table (suitable for parties of 1 to 4 people), at a round table (4 to 6 people) or our caviar bar (up to 4 people).
Every Saturday, Speilsalen invites you to join their Champagne Lunches with a special 4-course menu and a glass of bubbly, with seating from 12.30.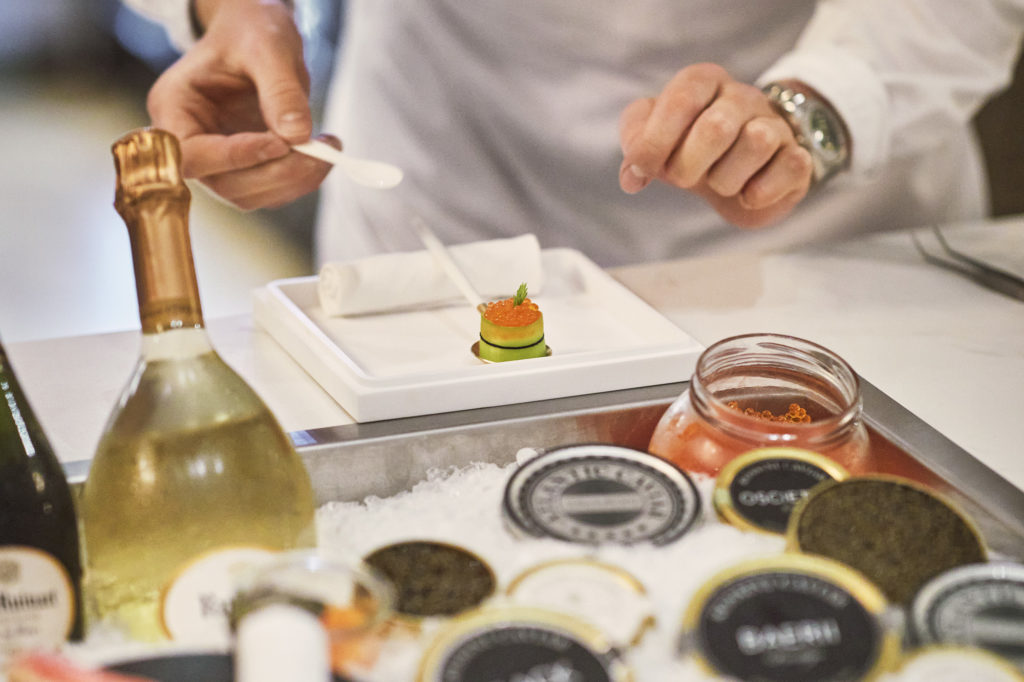 Let yourself be tempted by the Nordic region's only caviar bar. Start the evening with an informative introduction to caviar's captivating universe. Several different types are offered at the caviar bar, all with a distinctive character, based on different types of sturgeon and with a variety of salt and ripening time.
We have also developed our own small concoctions, with caviar plays first violin in a symphony of carefully-selected ingredients. Caviar tasting is the perfect accompaniment to our 10-course meal, or we can offer exclusive caviar experiences on request.
Speilsalen is open for bookings up to three months in advance, but it you would like to plan further ahead you may take advantage of one of our two overnight packages:

Accommodation packages (including reservation in Speilsalen) are available Wednesday - Saturday from August to December 2021. You may also contact us directly to organise a special occasion.
Menu

Tasting Menu

Tasting menu NOK 2.250,- Beverage pairing NOK 2.050,- (aperitif, wine pairing, mineral water, artisanal coffee).

View menu

Wine Menu

Britannia's Wine Cellar

In addition to our wine pairing menus, we have one of Norway's finest wine cellars at out disposal. Contact us to reserve special bottles, which will be prepared in advance of your arrival.

View menu

Caviar Bar

jewels of the sea

Welcome to Scandinavia's only Caviar Bar! For an extra special culinary experience, we recommend you start the evening with a serving of these black pearls; the jewels of the sea.

View menu
Speilsalen
"Life is full of surprises, and if you look closely, you will find inspiration and influence all around you. This is what I want our guests to feel when they visit us in Speilsalen." Christopher Davidsen.